Overview
Thank you for your interest in writing articles for me.
My goal is to make this process as easy as possible for both of us.
Our #1 goal is to be helpful.
We are not pushing products or hyping other stuff for money. We are simply providing sound answers to common questions.
All of our articles follow a basic format that makes them easy for people to find solutions to their problems and also helps search engines to understand what we are writing about.
3 Types of Articles:
Response Post – 90%+ of everything you write will most likely fit into this category. They are 1300-1800 words and are focused on answering questions.
Staple Post – These are more detailed versions of a response post that typically tackle a more detailed topic. They are usually 2,500 words and take up to 3 hours to write.
Pillar Post – Less than 1% of the articles you write will be pillar posts. Think ebook level here. These are 3,500 plus word articles. They tackle the hardest topics and go into great detail.
Writing Style
Every article needs to follow this outline.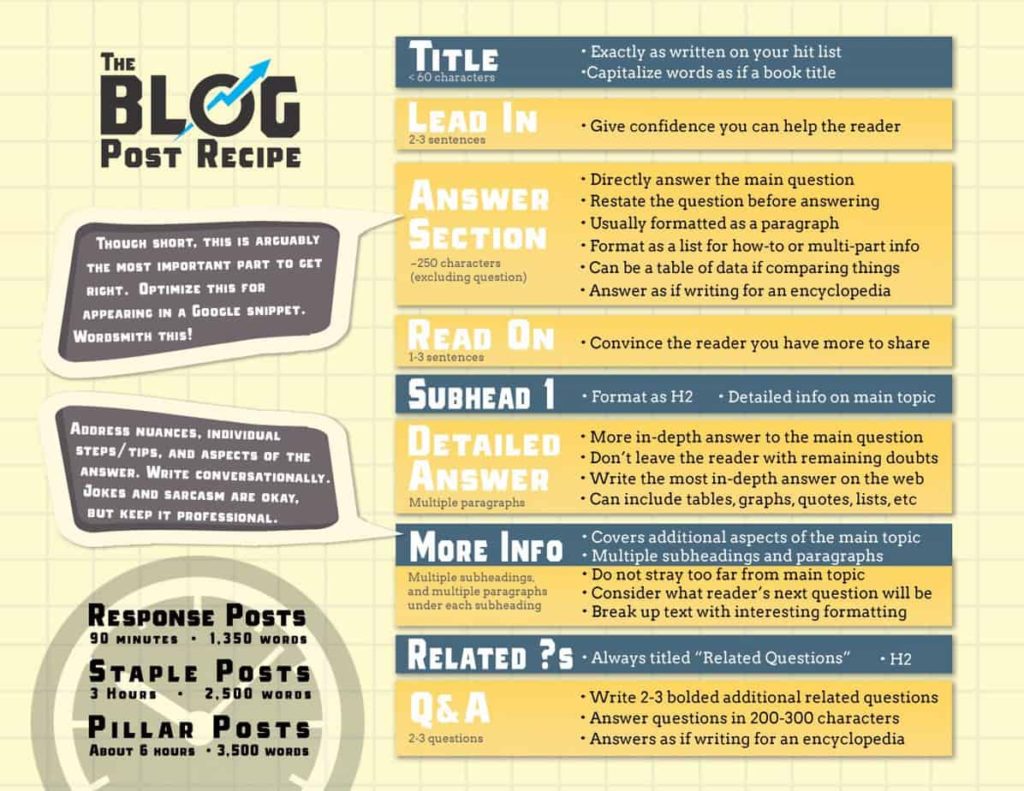 Don't worry, it probably sounds more difficult than it really is, I promise. If I can do it, I know you can too.
Because of the topics we write about, it may not use the above recipe exactly.
This is the format I mostly use:
Lead In
Q1 Answer Section
Q2 Answer Section
Q3 Answer Section
Related Questions

R – Q1 (200-300 words)
R – Q2 (200-300 words)
R – Q3 (200-300 words)

Closing Thoughts
How The Process Will Work For Us
I will research a popular topic and give you a list of questions to answer. I rank them from most to least important questions.
As a result, focus the bulk of your time addressing the first few questions because they are the most often asked questions.
The other questions are supporting or related questions but not nearly as popular or important to emphasize.
Want To Learn More?
I hesitate to show you this training video because it sounds overwhelming. In this video they are discussing if I were to ask you to do the entire process, I am not going to do that. I simply need your help in doing some quick research and then in your own words answering the questions.
Then I will format and publish the articles, find artwork, etc. to pull it all together before going live.
Here is the video: [Article Writing Training Video] (cheers to anyone who can provide me with the three secret words)
VIDEO OUTLINE / REFERENCE GUIDE
Introduction (00:00)
(00:25) Why are you being hired to write?
(01:33) Why the blog owner wants length in your articles
Three Types of Posts (02:17)
Response Post (2:48)
Staple Post (04:12)
Pillar Post (04:59)
The Post Recipe (06:25)
How to Write a Post in WordPress (13:48)
Log in to the dashboard (13:48)
Formatting a post in WordPress (14:30)
Getting your word count (16:40)
Select the category (16:50)
Publishing and scheduling your post (17:00)
Final Points (18:18)
Copyright and Quoting (18:18)
Grammarly for Chrome (19:35)
Writing tone (20:20)
*LIKE I SAID, DON'T LET THE VIDEO OVERWHELM YOU! I have really simplified the process.
Closing Thoughts
I am really looking forward to working with you. I want this to be a rewarding experience for both of us, and don't want you to get burned out.
We need to maintain a clear and open line of communication. If you find something difficult, let me know and I will see if I can help. If you no longer want to write articles, that's fine, just be honest with me and I will be honest with you.
My next task is to develop a list of questions for you to research and then answer using the format above.
Again, thanks in advance for your assistance in helping answer these questions and solving problems for others.