10 Popular Vitamins For Goldendoodles (Explained!)
Goldendoodles are a popular dog breed for may reasons. The combined genetics of the Poodle and Golden Retriever make a friendly, energetic, and loyal furry companion. These sweet furry dogs become more than just a family pet, though, and more like a family member. So, as their pet owners, we do everything we can to make sure they are at their healthiest.
This article covers the health issues that affect the Goldendoodle breed most commonly as well as the best products for goldendoodles that maintain their healthy bones, joints, skin, coats, and overall wellbeing.
Health Issues Goldendoodles Are Prone To Get
One of the reasons Goldendoodles were crossbred were to have a genetically heathier breed. However, some health risks from the Poodle and Golden Retriever breeds can show in these dogs. Many of these ailments can be prevented or treated with a well-rounded diet of fresh foods and a high-quality dog-food, and multivitamin supplements. Some of these issues are:
Hip dysplasia- when the joints in the hip rub against each other instead of fitting and moving smoothly, causing pain.
Atopic dermatitis (eczema)
Epilepsy- a neurological disorder that causes seizures.
Arthritis- inflammation of the joints, causing swelling and pain.
Chronic pain
Ear infections
Cataracts
Allergies
Certain vitamins and minerals are helpful to prevent or treat these ailments. Vitamins A, C, E are shown to prevent cataracts, hip dysplasia, and eczema. Omega-3s and Omega-6 fatty acids extracted from fish oils (never from flaxseed or soybean oils.
Those are unhealthy for dogs) can prevent or treat chronic pain, eczema, ear infections, and allergies. Probiotics are invaluable in supporting your Goldendoodle's gut health and immune system.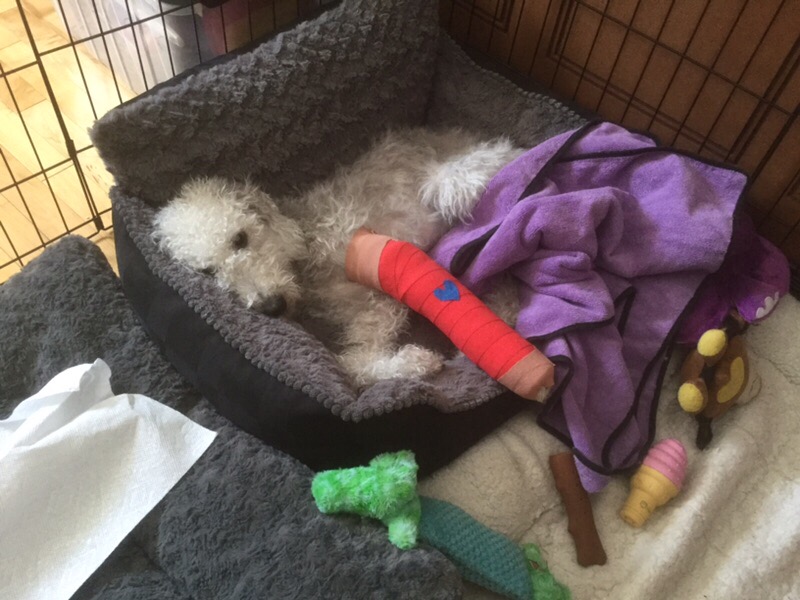 Many of the best vitamins for Goldendoodles have a combination of these nutrients. They work best with a healthy diet of a high-quality dog food and treats, and a sufficient amount of exercise. Below is a list of some Amazon's best supplements for goldendoodle. Each of them are under $50.
These multivitamins have all of the crucial nutrients that target a Goldendoodle's most problematic health issues. It is formulated to be safe for all life stages, so you can maximize your puppy's health right away.
The delicious peanut butter-flavored soft chew is free of grain, corn, and soy, and comes in a 90-count package. Zesty Paws 11-in-1 multivitamins for senior dogs are an Amazon's choice, too!
This 90-count package of supplements comes in two flavors: chicken and peanut butter. It offers intensive digestion treatment with 1 billion CFU probiotics. These contain eggshell meal from krill oil and omegas to maintain your dog's healthy skin and coat.
This is a whole-food supplement that has all the necessary vitamins to maintain a healthy Goldendoodle and more. It is organic and has pre- and probiotics to ensure gut health, which contributes immensely to a healthy immune system.
Wholistic Pet also contains 15% of crude protein to maintain a healthy muscular system. It
Golden Paw Cat and Dog Multivitamin
This multivitamin comes in tincture form so it can be added to your Goldendoodles food, treats, or administered directly.
It comes in a 2oz bottle so it is economical if you have a multi-pet household (your pup's feline sister can benefit from the same vitamins and minerals). This is also safe for pets of all ages.
Set your Goldendoodle puppy up for a healthy life with these puppy-formulated supplements. They come in a large package of 125-count.
It supports a healthy immune system and gut heat with 1 million CFU and five strains of dog probiotics that target allergies and poor oral hygiene.
It also helps with coprophagia treatment, or the consumption of feces, which is a common issue in puppies. All of Strawfield's Pet Store products are 100% free of grain, soy, corn, dairy, salt, sugar, gluten, and artificial additives.
This product focuses on your Goldendoodle's bone health, which will be essential in preventing arthritis, chronic pain, and hip dysplasia. With 350 IU of Vitamin D, it maximizes the absorption of calcium and phosphorous.
It is in powder form so it can be easily sprinkled in your dog's food. Naurvet's Powder Supplement is great for dogs of all ages.
Salmon oil is rich in Omega-3 fatty acids that are important for heart, skin, and joint health. This product will help ease your Goldendoodle's allergies and keep its coat glossy.
It also prevents joint inflammation and can be used for cats, too. This 32 oz product is human grade for pet parents who love organic products.
These chewable fish oil tablets are an Amazon bestseller and come in two delicious flavors: liver and salmon. They promote skin health and a shiny coat in your Goldendoodle.
They are third-party lab tested, organic and Good Manufacturing Practice (GMP) product.
Made from organic hemp, this product not only targets the common physical health risks of Goldendoodles, but also the emotional ones that the breed can inherit from their Golden Retriever side, like anxiety.
It also improves their cognitive function. It contains no GMO, wheat, soy, corn, or artificial flavors or preservatives. These treats come in a delicious chicken flavor.
These all-in-one soft chews ensure your pup's overall health with vital vitamins and nutrients. It guarantees a healthy gut and immune system in dogs of all ages by containing 3 billion CFU.
Your Goldendoodle is sure to love the chicken bacon flavor and can be fed 2-3 chews a day.
Conclusion
Any one of these vitamins will do wonders for your Goldendoodle's overall health. However, they are only supplements. Make sure to feed your dog a high-quality dog food that is appropriate for their age, breed, and size. Exercise also not only ensures your Goldendoodles physical health, but their mental and emotional health as well. They love to play and run, so at least an hour of exercise daily will maintain their wellbeing.
Always establish a good relationship with your vet, too. If your dog displays any symptoms of the health issues mentioned above, talk to your vet. Many of these products can be consumed in addition to medications for hip dysplasia and other ailments. Minor ones like allergies and ear infections can, if left unresolved, lead to more painful and expensive repercussions. Hip dysplasia and seizures can be prevented with proper tests and x-rays.
So, find the best vitamins for your Goldendoodle and enjoy the best parts of their healthy personality. These dogs average life spans are 10-13 years, so do what you can to ensure that they live them out in the happiest and healthiest way.