My best friend just adopted a Goldendoodle puppy, and she is having a puppy shower. I want to bring a gift that will help her on her journey as a new pet parent, but I am unsure what to buy. I don't have a puppy or dog of my own, so I am clueless about what might be needed other than a collar and leash. I also don't have a lot of time to spare on shopping, so I will have to order online instead of consulting a knowledgeable person at a pet store.
I checked a couple of websites and discovered many cool items that she and her new Goldendoodle puppy would enjoy. Please continue reading to see what I found.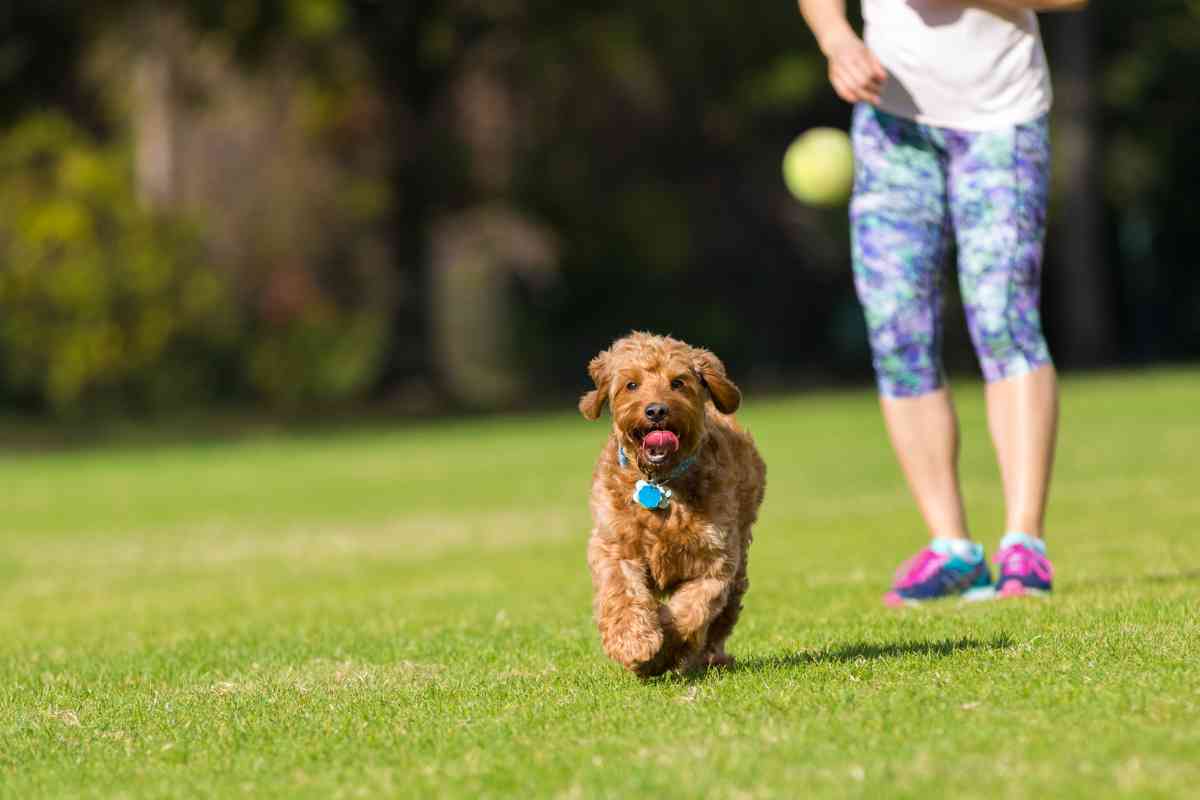 What to buy for a Goldendoodle (or any breed) puppy?
What to buy for a Goldendoodle puppy? Puppies love gifts, just like we do! What better way to welcome a new puppy than by giving it a welcome to your new home gift? Selecting the right gift can bring happiness and joy to a fur baby's life.
The internet has numerous choices that can make it hard to decipher which items are most important for new pet parents. Options can range from extravagant and expensive to basic and reasonably priced. Gift givers must not only consider the Goldendoodle puppy; they should also consider the owner or family that will welcome the puppy.
Does the family have specific preferences, likes, and dislikes? What matters most to them in life? Who are they as individual people, and who will be the primary caregiver for the Goldendoodle pup?
What type of home will the new puppy be living in? Where is it located, and what does the house have inside? These questions will factor into the gift-giving choices. These key areas can help a family member, friend, or neighbor buy something that will be both useful and appreciated by all.
For those giving a gift to a new puppy, if the budget permits, sometimes selecting a few items and placing them in a basket or tote can be a great way to cover all the bases!
When selecting a gift for a new fur baby, their age must first be considered. The Goldendoodle puppy stage can be a time of wonder, happiness, frustration, and exhaustion for any new pet parent. Thankfully the gifts that these new parents receive can make all the difference in the days that lie ahead if chosen with care and consideration.
Necessary items are always useful and highly significant for new pet parents. When care and thought are used in selecting these items, they can be both functional and unique.
Some essential items include:
Food and Water Bowls
Leash and collar
Beds
Poop Bags and Pee Pads
Chew Toys
Puzzle or Brain Teasing Toys
Dog Treat Baking Sets with Recipes
Dog First Aid Kits
When selecting a puppy bowl for food or water, it is always good to think ahead. Puppies don't stay small forever. Rather than choose a set of dog bowls that will only be used for the puppy stage, consider something more adaptable.
The Goldendoodle will grow and change with each stage of life. These stages require different tools for a happy and healthy life. Using an adjustable set of dog bowls is a great way to grow with a puppy from one stage to the next. If the bowls are stainless steel and removable, it makes cleanup easier on the new pet parents!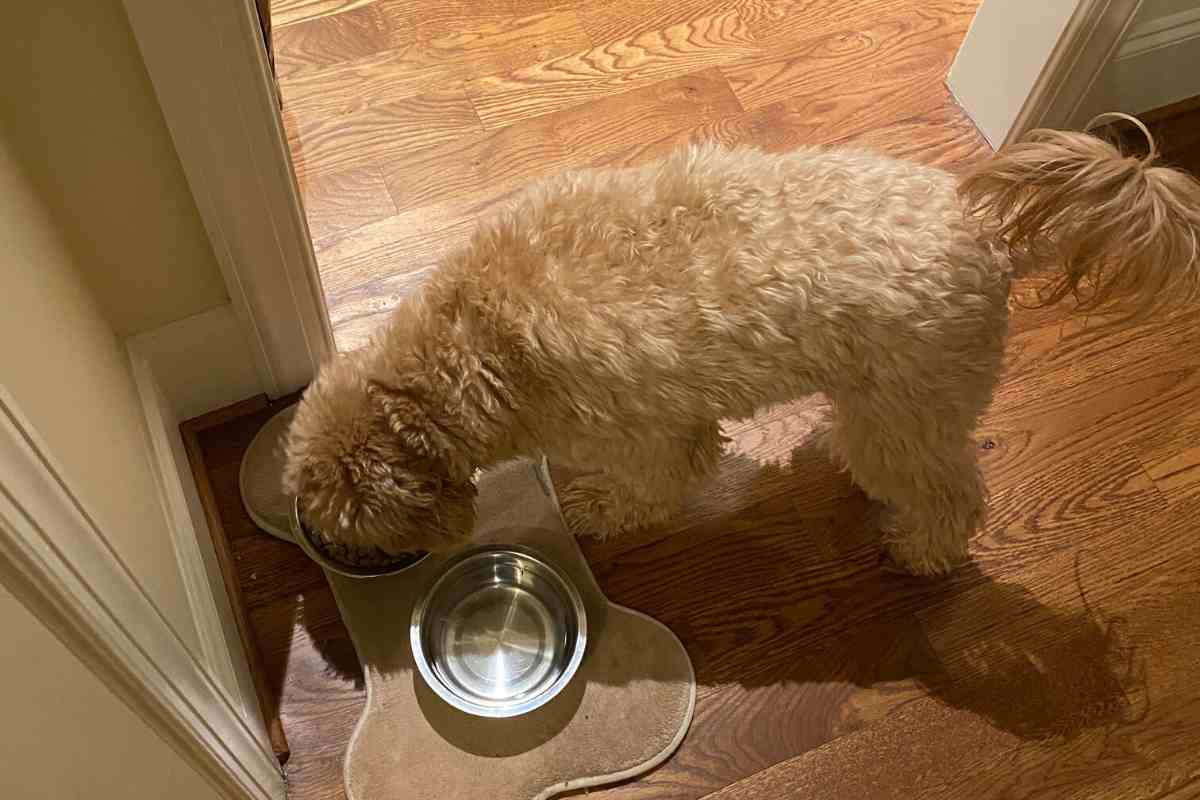 One of the most important but sometimes overlooked gifts to give a new pet parent is poop bags. With a new Goldendoodle puppy in the house, these little bags are as essential as chew toys and treats.
While not exciting, they are functional and necessary. If the bags are biodegradable and compostable, this is a plus for the new parents and the environment. Bags should be thick, strong, and leak-proof and preferably unscented to protect the environment.
Another essential item for a new fur baby is a pet bed. Unless, of course, the new pet family doesn't mind sharing their bed all the time with their new Goldendoodle puppy!
A puppy bed should be extra soft. All those cute parts are developing and need a soft place to rest. Materials should be as natural as possible, and machine washable and dryer safe. A Goldendoodle puppy may have accidents or struggle with negative behaviors of chewing and scratching. Durability is paramount.
If the bed is lightweight or easy to transport, this is a plus. While having a bed in every room of the house would be fantastic for any Goldendoodle pup, having their family carry it around from room to room or outside will work too!
Chew toys are a must for any puppy parent. As the puppy goes through the stages of growth, they will have moments where they have to chew on something. If they don't have any chew toys around the house, shoes and other household items may become targets.
The chew toy should come in an appealing flavor. Each dog will be different, but most dogs and puppies will find it very hard to resist the smell and taste of bacon, cheese, and peanut butter. Chew toys come in various shapes and sizes that can delight any Goldendoodle puppy for hours.
Next on the list, when thinking of a quality gift to give or place in a puppy shower gift basket, is a puzzle toy. A Goldendoodle puppy will be active, to be sure, but one area many dog owners forget about is the mind. Goldendoodles need mental activity too. Playtime with a mentally stimulating toy or game can help the puppy develop and learn faster.
Toys that squeak and make noise will help keep interests high for longer periods. These toys should be plush and puppy friendly at the puppy stage, so they don't get hurt.
There are numerous mind-stimulating toys on the market that keep playtime fun and interesting. Many of these toys will naturally bring out a puppy's instinct to fetch, hide, and seek and use their sense of smell.
While every Goldendoodle puppy is unique, and each will have a particular way of finding adventure, these toys will enhance their mental and physical abilities while entertaining.
What new pet parent doesn't want to make a few treats for their new fur baby? Gifting a dog treat bake set can bring out the creativity in a new pet parent. Many sets come with recipes and tools that can be used to create gourmet treats and snacks for their beloved new baby!
New parents will delight in knowing what is going into their babies' mouth because they made it themselves. Who knows, as the puppy grows up, they might even decide to help! How adorable that would be, videos of a Goldendoodle helping make their biscuits!
Everyone needs a first aid kit, right? Absolutely, and a new Goldendoodle puppy parent is no different! This is highly recommended for those new pet parents who will be taking their Goldendoodle pup on every adventure they go on.
First aid kits can be purchased online, but it can also be enjoyable to design a box and make it homemade. Some items to include:
Assorted Bandages – Conforming, Adhesive, Open Weave
Gauze Pads
A Towel or Two
Ice Packs
Sticky Surgical Tape
Disposable Gloves
Cotton Wool in a Box
Tweezers
Curved, Blunt Scissors
Elizabethian Dog collar
A Copy of the Dogs License and Veterinary Phone Number
Any Medications the Dog May Need
3% Hydrogen Peroxide
Antibiotic Ointment
Flashlight
Alcohol Swabs
Oral Syringe
A homemade first aid kit can contain some or all of these items and more. The Goldendoodle family and the adventures they and their new puppy are likely to go on will determine what should be in a first aid kit.
Many websites also offer tips for managing a variety of dog emergencies. These can be printed out, or a book can be included in the homemade kit.
Whatever gifts are chosen, it is always good to purchase products from websites and stores that support animal rescue organizations. Buy items that benefit specific organizations and animals' welfare; we all can make a difference in a pet's life while sharing a special gift!
It can also be a wonderful gift to give to a new Goldendoodle pet parent. Giving the gift of a donation to a Goldendoodle organization or animal rescue can mean a lot to someone that doesn't necessarily need another dog collar or pet bed. It will be greatly appreciated too, and not just by the pet parent!
Final Thought
As a gift-giver, it is vital to give a well thought out gift that delights the receiver and shows the thought behind it.
Adopting a Goldendoodle puppy is a time of great excitement and happiness! Sharing gifts with new puppy parents, whether at a puppy shower or not, show how much we care!
It should be effortless to pick something that the pet parent and new Goldendoodle puppy will adore! Now all that's left is to bake that new puppy a cake!