Can Goldendoodles Be Service Dogs?
Goldendoodles are an amazing breed. They are known for having a mild manner and can truly serve as man's (or woman's) best friend. In addition, Goldendoodles are considered hypoallergenic (they have non-shedding or low shedding coats) which is fantastic for those who suffer from allergies.
With all that in mind, I started wondering if Goldendoodles would be good as service dogs and set out to conduct some research. Check out my findings below.
Can Goldendoodles Be Service Dogs?
Can Goldendoodles be service dogs? Experts agree that Goldendoodles make excellent service dogs. Given their mild manner and since they are bred to be hypo-allergenic they make an excellent companion for folks with health issues ranging from anxiety to physical disabilities to everything in between.
What Is the Role of a Service Dog?
What is the role of a service dog? Before considering a Goldendoodle as a service dog, I thought it was important to understand the role they would be playing.
Buy The Book!
Ready to unlock the secrets to a happy, healthy Goldendoodle? Grab your copy of 'D Is For Doodle' today and take the first step towards becoming the best Goldendoodle parent you can be. Your Doodle's brighter future is just a page away!
First, it's important to note the difference between a service dog and a therapy dog. Most experts define a therapy dog as a dog that you would see in a hospital or nursing home that provides affection and attention for those who may be lonely or feeling ill. Therapy dogs can also provide comfort for humans that have undergone emotional duress (things like Post Traumatic Stress Disorder).
A service dog, on the other hand, can provide all the comforts a therapy dog can, but will be specially trained to help someone with more severe mental or physical disabilities.
According to the Service Dog Certification website, service dogs play many roles and their primary purpose is to aide owners with mental or physical disabilities with everyday life. Some of the roles listed on the Service Dog Certification website are as follows:
Answering the door.
Retrieves items for their owner such as mail.
Serves as a physical support for getting around or up the stairs.
Carries medicine and other items needed in a specialized backpack.
Service dogs can be trained to bring a phone to their owner in a 911 emergency or they can run to a nearby human to get help!
Service dogs can also be trained to aide their human companion while in a state of weakness such as a seizure or other debilitating situation.
These items are just some of the many things a service dog can be trained to accomplish for their human companion.
Why Would a Goldendoodle Make a Good Service Dog?
Why would a Goldendoodle make a good service dog? Goldendoodles make good service dogs for many reasons. One of the primary reasons they are so great is because of their mild nature. Their breed tends to be patient and caring which is exactly what you look for in a service dog.
Research has shown additional reasons Goldendoodles make great service dogs are:
Both Golden Retrievers and Poodles (thus, Goldendoodles) are known to be breeds that are quick to learn.

This makes training for specific, often complex, tasks easier.

Goldendoodles have a behavioral tendency toward affection and compassion which are needed to be a successful service dog.
While no dog is 100% hypoallergenic, Goldendoodles have been bred to be as hypoallergenic as possible (less to no shedding versus other breeds)

As a result, a Goldendoodle makes an excellent service dog for someone with allergies to most pets.

Goldendoodles tend to be good around people and can handle crowds so shopping and other errands will be no problem for them.

In addition, they tend to be able to focus on the task at hand while a lot is going on around them.

They are easy to train
Our special breed of furry friend is also known for their patience which helps when someone is slower to move around.
Goldendoodles are known for their attentive desire to please which is needed by people with mental and physical disabilities.
They tend to be loyal which is important when looking for a dog who will be there in a time of need.
All-in-all Goldendoodles, check off just about every requirement for making a good service dog. That said, if you are in search of a service dog and are considering a Goldendoodle be sure to speak with your health care provider and understand what may be best for you.
How Do I Go About Training My Goldendoodle to Be a Service Dog?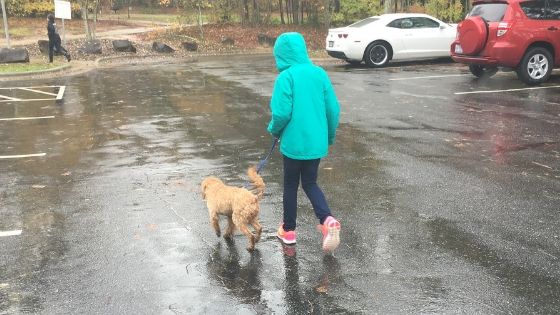 How do I go about training my Goldendoodle to be a service dog? Research has shown there are various ways a Goldendoodle can be trained to be a service dog. I have compiled some information I've found for you to consider as you decide what is right for you.
Owner trained (generally with the assistance of a professional trainer)

Most experts recommend training your dog on your own, often with the assistance of a trainer.

In addition, as the owner, it is important for you to fully understand and execute commands.

Training conducted by a specialized trainer

Most experts do not recommend going this route unless you are unable to train your Goldendoodle on your own because it is important that an owner understand and be able to execute on commands.
Prior to deciding what is right for you discuss with your healthcare provider.
In addition, if you choose to go with a trainer for assistance please research various providers to understand who will best fit your needs. I have found the following website which lists registered trainers to start your search:
https://usaservicedogregistration.com/service-dog-training/
How Much Will It Cost to Turn My Goldendoodle Into a Service Dog?
How much will it cost to turn my Goldendoodle into a service dog? My research has shown prices to purchase and then turn a dog into a service dog can run anywhere from $7,000 to upwards of $50,000. The price varies so much because the needs of people who require service dogs vary so widely.
While the overall cost may be overwhelming for most of us, I've investigated some ways you can get help with the expenses:
Flexible Spending Account

Many of us have Flexible Spending Accounts set up as a supplement to our existing health care plans. Check with your provider, but often the money saved in these accounts can be used to help with costs of a service dog.

Nonprofit organizations

There are many nonprofit organizations that grant funds to those in need of service dogs that don't have the means to obtain one.

Assistance Dog United Campaign

Local businesses will often offer grants for specific needs based on consumer's input.

One example I've found is the Build a Bear Workshop which offered grants to people in support of obtaining service dogs for a period.

Check with some of you local foundations tied to larger companies to see if any are currently giving grants for service dogs.

Ask whomever you are partnering with as a trainer if they are members of any dog training coalitions that help support the costs of training service dogs. If not, it may be worth having a conversation with them to see if they would be willing to partner with one of the coalitions in your area.
Utilize crowdfunding sites such as GoFundMe which encourages your friends, family and others to help with the expenses. A little from a lot of people can go a long way!
Finally, and maybe the most difficult is to take time and save as much as you can before you move forward with purchasing and training a service dog (Goldendoodle or any other breed).
Most communities have networks that make getting and training a service dog a little more financially reasonable. If none of the above resources are available, or an option for you, please speak with your healthcare provider and some of the trainers in your area to see if they have any alternative paths for you.
Closing Thoughts
The more research I've done the more I've learned what a special breed Goldendoodles are. They are known to be smart, caring animals that are there for us when we are up or down. Whether you are looking for them to be part of your family as a service dog or not they are a wonderful addition to most any home!