Can Goldendoodles be AKC Registered? Can You Register A Goldendoodle? The Ultimate Guide!
Less than a year ago, I adopted a Goldendoodle, and she is perfect! Gemma's appearance, personality, temperament, and the way she walks remind me of a show dog! I have always been interested in show dogs and possibly having a dog that I can take into the show ring. I don't know if Gemma would be a dog that could be registered due to her breed background. I don't know what rules and regulations state about crossbred dogs. It would be disappointing if Gemma couldn't be registered due to her genetic background, especially since she is lovely!
After a good long walk around the neighborhood today, I decided to sit down at my computer and figure out the details about registering mixed, hybrid, or designer breeds. Read on to find out.
Can Goldendoodles be AKC Registered?
Yes, Goldendoodle can be registered with the American Kennel Club (AKC) and other organizations, but not in the same way as a purebred dog. The AKC allows certain dog breeds that are hybrids or mixes registered with them through a Canine Partners Program designed expressly for hybrid dogs like Goldendoodles to get some of the benefits of registration. 
Is your Goldendoodle low shedding, free of health issues like allergies or issues with elbows or hips and has been cleared by the OFA? You probably think you should get some AKC papers to ensure that your dog's great traits can live on in offspring that can be registered. Here's what you need to know.
All dogs have a place within the American Kennel Club, including dogs with diverse backgrounds that don't fit into the Purebred Category or the Purebred Alternative Category. The process of signing your non-purebred dog up for the AKC Canine Partners Program is easy and allows owners of unique mixed-bred dogs to enjoy all the benefits that AKC offers. 
Buy The Book!
Ready to unlock the secrets to a happy, healthy Goldendoodle? Grab your copy of 'D Is For Doodle' today and take the first step towards becoming the best Goldendoodle parent you can be. Your Doodle's brighter future is just a page away!
It will help if you have the AKC registration for the Golden Retriever and Poodle parent. The dog's parents don't necessarily have to be registered in order for you to add your Goldendoodle to their registries as well, but having purebred parent breeds can help.
Being a part of a community of fellow Goldendoodle owners allows new owners to find support and commonality in understanding their unique dog. 
This unique registration also allows the owner and Goldendoodle dog to explore sports and competitive activities for those wishing to explore these exciting areas.
It is also possible to register a Golden Doodle with other organizations like the CKC, with the same benefits and other added perks. Choices depend on what the individual or family is looking to accomplish with the registration.
Individuals looking to register their Goldendoodle will have many options open to them. Gone are the days of Purebred dogs being the only recognized dogs. Welcome to the world of mixed and hybrid dog breeds!
Why would I want to register a Goldendoodle?
Individuals and families may want to fill out and submit a registration application for their Goldendoodle for various reasons, which can change with the age of the dog.
During the puppy stage, new owners may find it helpful to register their Goldendoodle with particular organizations or groups to learn about this unique breed. They can gain valuable information from seasoned veterans who have been in their shoes, caring for and training a Goldendoodle.
New Goldendoodle owners can also use these organizations and groups to make friends with others who share a commonality of loving this particular crossbreed of dogs. This creates a valuable resource for socializing in a comfortable and rewarding way.
Playdates for the dogs and get-togethers at dog parks or outings are a great way to connect with like-minded individuals who love Goldendoodles! Depending on Goldendoodle's age, these get-togethers can be great fun for individuals or families and the dog!
Registering a Goldendoodle can also allow new or seasoned owners to take advantage of specific programs and activities that the organization or group may offer. These can include courses, competitions, events, and discounts on particular dog-related items for their beloved dog.
Some registration perks can include:
Discounts for veterinary care
Subscriptions to magazines
Trails or discounts on pet insurance
Certificates of recognition for the Goldendoodle
Eligibility to compete in individual events, such as agility and obedience competitions
Eligibility to receive titles
One thing that must be noted when registering a Goldendoodle with the AKC is that they must be spayed or neutered to compete. The only exceptions made are for puppies, but they too must be spayed or neutered by the age their veterinarian recommends to compete.
Each organization's guidelines and rules will vary, so it is best to check with them before joining. Some Goldendoodle owners have no wish to show their dog but are looking for an organization to participate in the community (AKC events are a lot of fun!), get support, and other perks.
The internet can be a valuable resource for locating big and small Goldendoodle organizations to register in. Taking the time to investigate each group or organization will provide the owner with what they seek.
This investigation can include correspondence with staff or volunteers to gain information and make an informed decision.
The process should be fun and enjoyable for the Goldendoodle owner, just like their teddy bear doggie!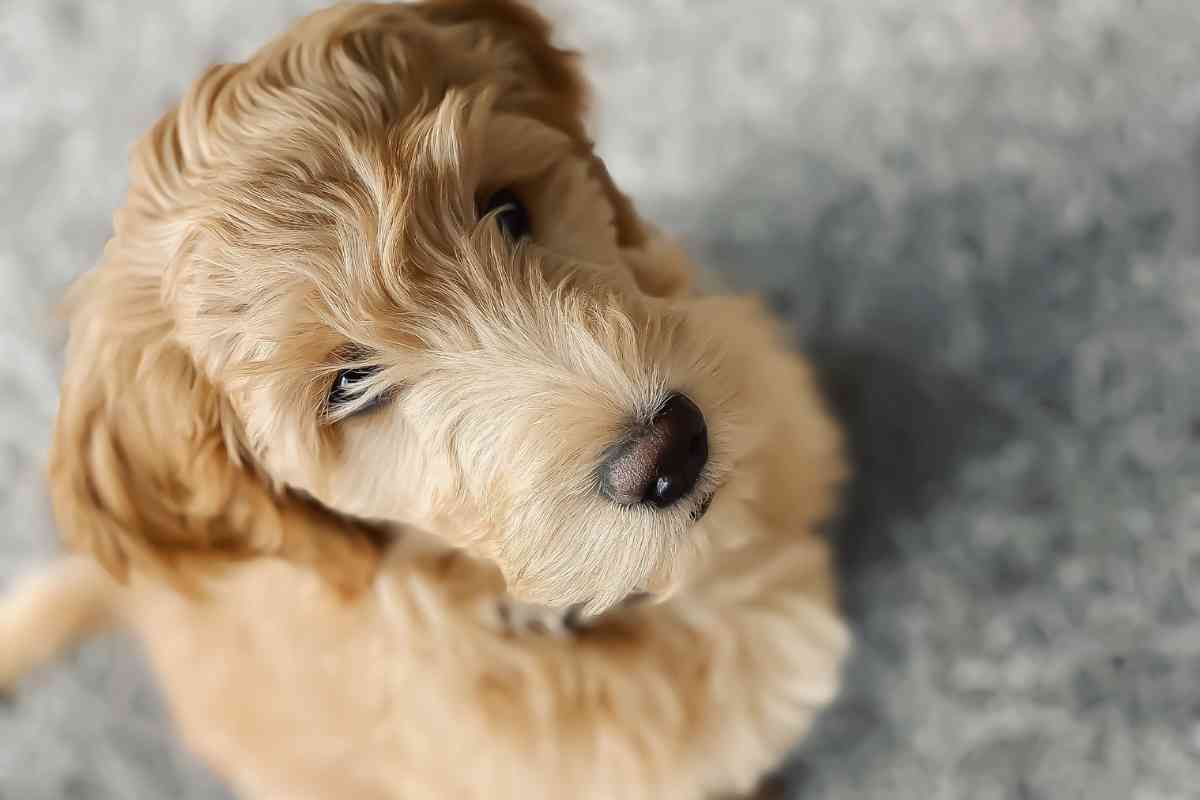 What are the steps to registering a Goldendoodle?
The registration process will vary from one organization to another. This registration can usually be done online or via mail, and the required information varies.
Generally, they will ask for basic information of name, address, phone, and email. Next, they will want to know about the dog, background, name, date of birth, and gender. Other information can include micro-chipping number, physical color and markings, date acquired, and any additional information the individual organization may find important.
Certain organizations and groups may be more formal or informal than others, finding the right place for the Goldendoodle and their owner should be a rewarding part of the process.
Are there other organizations besides the American Kennel Club where I can register my Goldendoodle?
Yes, there are many organizations with which to register a Goldendoodle. These organizations work hard to verify that the background of the Goldendoodle is true and correct. They trace and verify the background of original AKC breeds, vital for this dog breed.
This tracking of the Goldendoodle pedigree is necessary to set the standard and protect this crossbreed in the hopes that one day they will be recognized by the American Kennel Club as a breed of a dog instead of being placed in a group for mixed and hybrid dogs.
One such organization is the Goldendoodle Association of North America. They have an application that can be filled out and is often given to new adopters when they take their cute and adorable Goldendoodle puppy home.
What can I do to ensure that I can register my Goldendoodle with the organization of my choice?
The best thing for new Goldendoodle owners is to keep all the information they receive from the breeder. These are the documents that show your Goldendoodle is a Goldendoodle. This information can make it easier for organizations to trace their background and verify their pedigree.
Having a good relationship with a reputable breeder is also a good idea. This should start the moment a potential adopter decides to adopt a Goldendoodle puppy from a litter.
Dog breeders can be very supportive of those who adopt their puppies. They can help pick the right dog for you from their Goldendoodle litter and provide tips for success in every area of a Goldendoodles life.
Not all dog breeders are created equal. Verifying the breeder before adopting is of the utmost importance to protect the Goldendoodle breed and ensure that what you are getting is a Goldendoodle. Getting a breeder that follows best breeding practices and adheres to the highest standards of hygiene and care is the best way to help support responsible dog breeding and ownershipo.
Can I still register my Goldendoodle if I got them from a rescue?
This question can be hard to answer because rescue facilities, even those that specialize in certain dog breeds, can have a hard time knowing that the dog is a purebred animal.
Despite being crossbred, the Goldendoodle could still potentially be of mixed origin that doesn't include the two different breeds that make up their background. Their background and history are usually unidentifiable when they are taken into a rescue facility.
When an animal is taken into a rescue facility, regardless of their background, they are taken in for various reasons. These reasons can include that they were lost, abandoned, abused, or neglected. This mistreatment can mean that locating paperwork and their breeder is not possible.
This situation doesn't mean that every dog that ends up at a Goldendoodle rescue isn't a pure Goldendoodle. It merely means that it is hard for those who manage these facilities to locate this information. 
They may not know how many owners the dog has had or where the dog has lived. In these situations, the animals don't receive the care they need. Therefore breeding and background are irrelevant, taking a backseat to health and wellness.
Despite this situation, a rescued Goldendoodle can still be registered for specific organizations and groups that are a bit more flowing in their guidelines.
When adopting a Goldendoodle from a rescue, this is probably the best organization or group to join anyway since the dog's prior lifestyle may have been riddled with harmful events.
In Conclusion
Registering a Goldendoodle helps support the breed as a whole in recognition. In our not-so-distant past, crossbred, mixed breed, and hybrid dogs were often not recognized no matter how perfect they were.
Today breeding isn't the only formula for success when it comes to a dog. Such qualities as character, skills, beauty, and uniqueness are equally and sometimes more important than heritage!
Thankfully the Goldendoodle is a breed that is so adorable that no one will be able to refuse!
Related Content You May Find Interesting
Here are some more articles that may be of interest to you if you're interested in miniature Goldendoodles or any Goldendoodles.
The American Kennel Club (AKC) allows certain dog breeds that are hybrids or mixes registered with them through a Canine Partners Program designed expressly for hybrid dogs like Goldendoodles.
Having AKC registration for the Golden Retriever and Poodle parent can help.
Registering a Goldendoodle with AKC or other organizations can provide several benefits, including community support, discounts for veterinary care, subscriptions to magazines, trails or discounts on pet insurance, certificates of recognition for the Goldendoodle, eligibility to compete in individual events, and eligibility to receive titles.
Goldendoodle owners can register their dog online or via mail, and the registration process may vary from one organization to another.
Other organizations besides AKC where Goldendoodles can be registered include CKC.