Goldendoodle Must Haves: Veterinarian-Approved Must-Haves For Your New Goldendoodle Puppy
Goldendoodle Puppy Checklist ✅
Did you just get a New Goldendoodle puppy from a breeder or adopt one from a rescue?  There are many things that you will need to have in place to bring home your Goldendoodle. 
This article has a new puppy checklist with all the needed essentials to make bringing a new Golden Doodle puppy home much easier.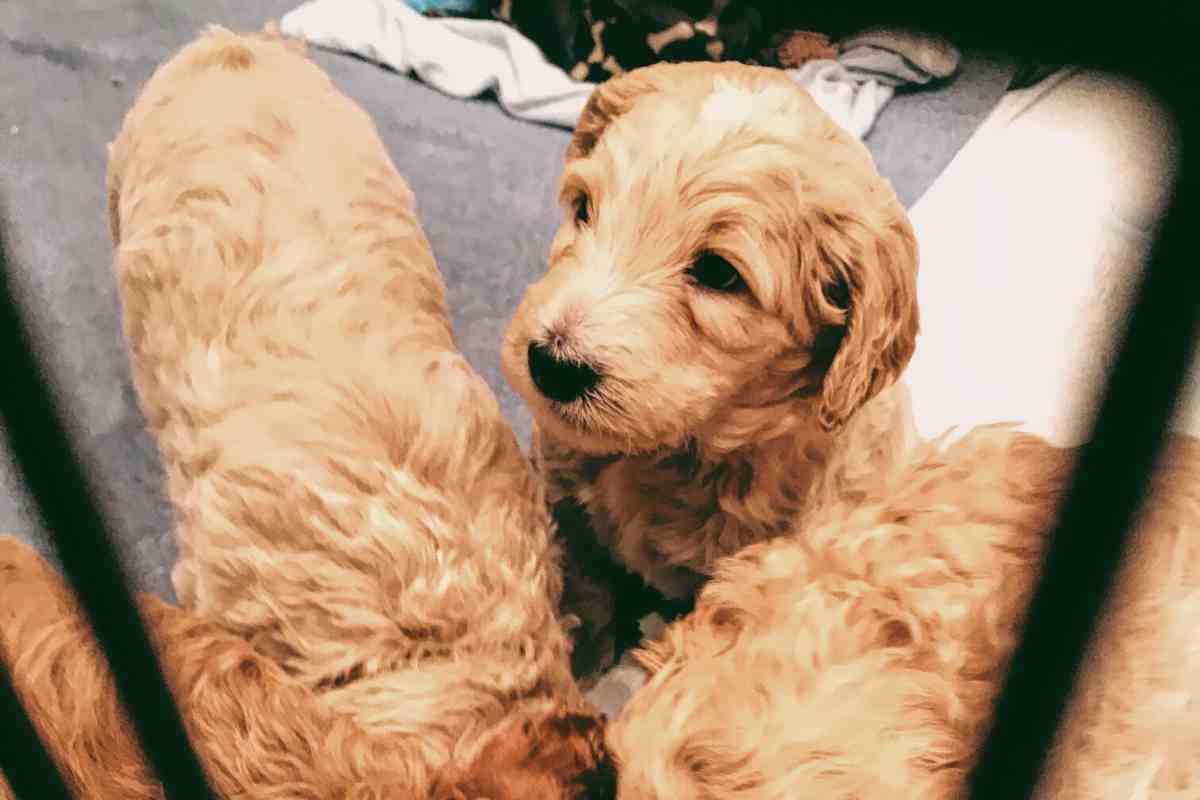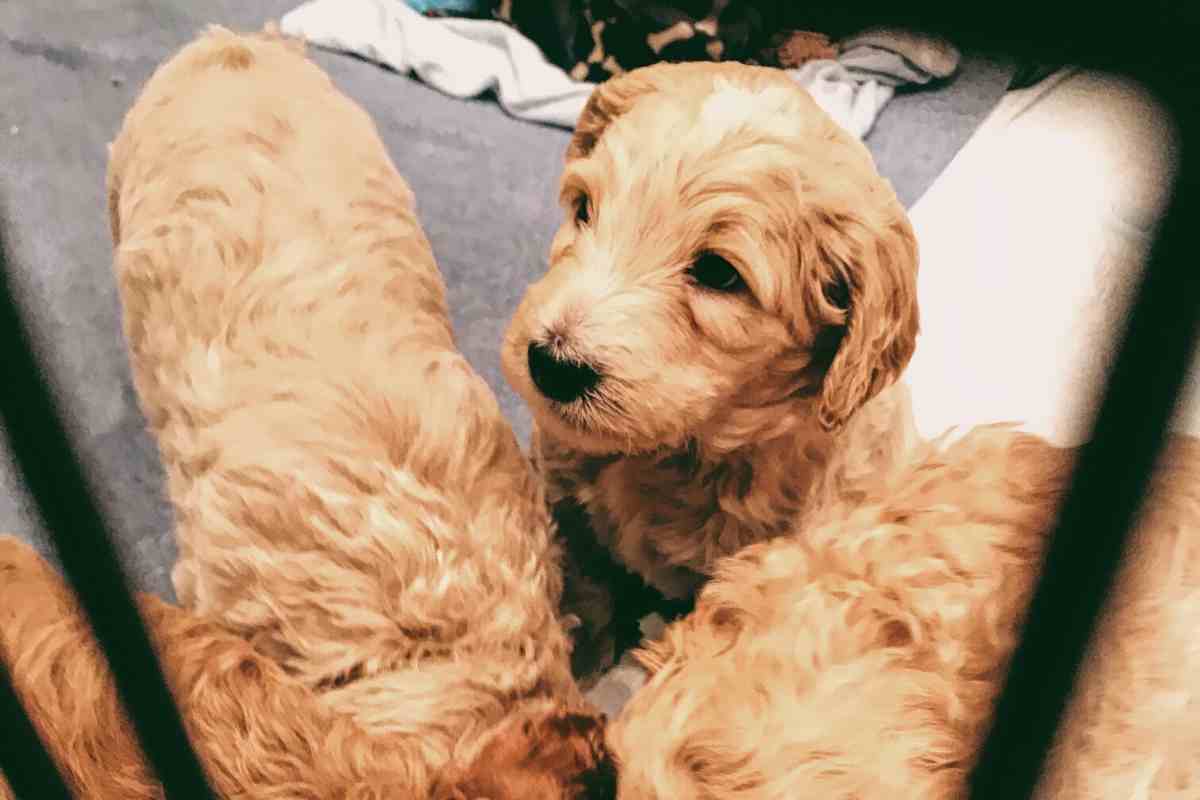 Top 10 Must-Haves for Your New Goldendoodle
Collar, harness, and leash
Crate
Dog bed
Food and water bowls
Dog Food and treats
Grooming supplies
Identification tag and microchip
Toys
Cleaning supplies
First aid kit
We also have looked and found some of the best products for you to get for your Goldendoodle puppy. Learn everything you need to know here.
Collar, Harness, and Leash
Your new Goldendoodle puppy will need plenty of exercise time.  Goldendoodle tend to be very active.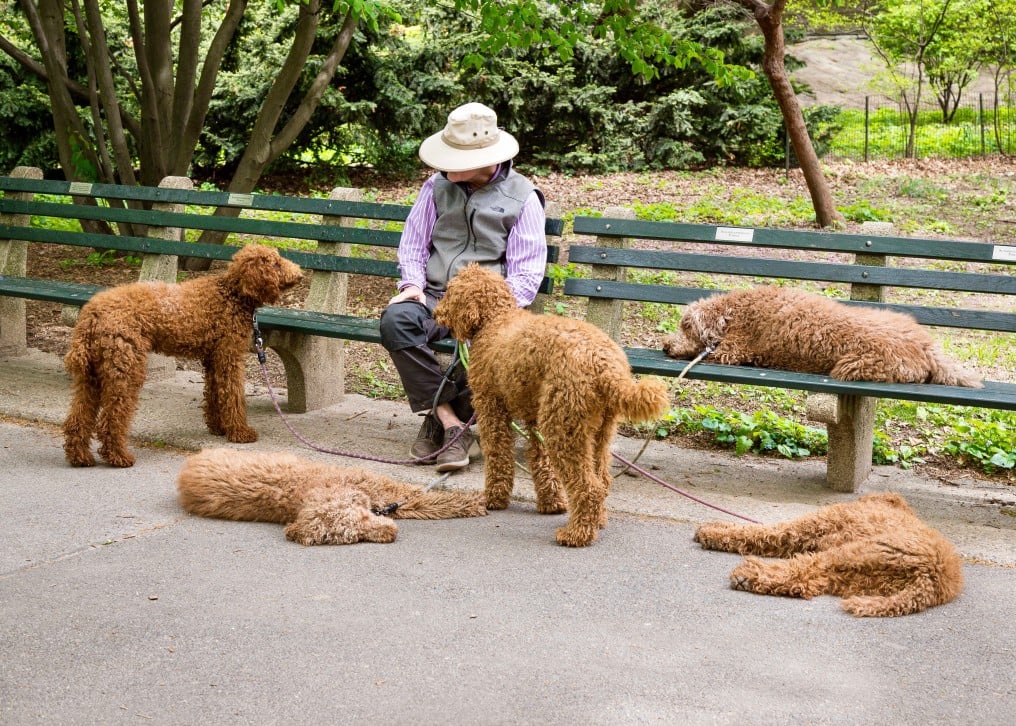 You will need a good collar and leash for them to go for a walk. If your Goldendoodle puppy tends to pull on their leash a lot, consider getting them a harness.
There are two different types of leashes that you can get for your dog. Most vets recommend a traditional leash. You can also get a retractable leash – I strongly discourage retractable leashes.
These can easily break or cause rope burn to your hands and legs from you trying to get your Goldendoodle to come back to you.
This is a great harness for you to use for your Goldendoodle puppy. This harness has a reflective trim on the harness, making it a great choice for you to use during early mornings or late evenings.
This is a great leash to use for your Goldendoodle. It comes in many different colors and has reflective threads in the leash.
The handle is very comfortable for you to hold on to during those long walks your Goldendoodle puppy will want to take. 
Crate
A crate is something that you will want to make a good investment in. Many times, this is used to potty train your Goldendoodle.
As they get older, this is a good place for them to retreat too when they are tired and want to sleep. Many people will lock their dog in a crate when they are gone for the day to prevent their Goldendoodle's from having free run of the house.
When you purchase a crate or a pen, look at one that will allow your Goldendoodle to grow with the crate. Many crates have a divider that you can put in the crate so that you can use the same crate when they are a puppy as when they are older. Or, give them more room and let it be a playpen.
The Mid West Life Stage Dog Crate is a great cage to get for your Goldendoodle.  It comes with a divider so that you can keep your Goldendoodle puppy on one side, and as they grow to make the cage larger. This way, you only need to buy one crate that will last their whole life.
Learn More About Crates With These Articles:
Dog Bed
Your Goldendoodle puppy will need their own dog bed.  This will be a place for them to sleep and relax.  Make sure that this bed is big enough for your Goldendoodle to sleep on. 
As a puppy, your Goldendoodle may chew on their bed and blankets. Make sure to get a bed that is made of out tough material but is soft enough for them to want to sleep on.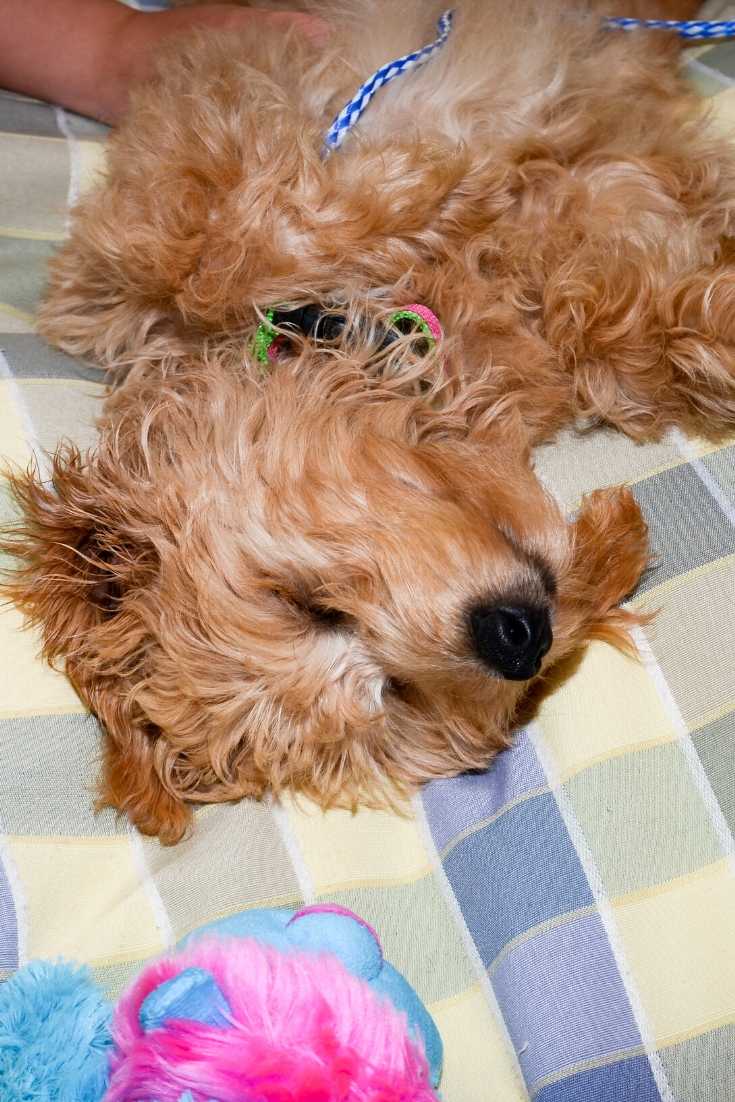 As your Goldendoodle gets older, you may want to transition them to an orthopedic dog bed. Orthopedic dog beds are easier on your Goldendoodle's joints than some other beds. These beds would not be a bad choice for a puppy either.
This dog bed would be great for your Goldendoodle.  Most dogs love the plush sides to rest their head. 
This bed is waterproof, which is great for those puppies learning to potty train. This bed is very comfy and is made of memory foam, which is a plus for older Goldendoodles.
Food and Water Bowls
As soon as you get your Goldendoodle home, they will need to have food and water available. There are many different size and shape food bowls that you can get for your Goldendoodle puppy.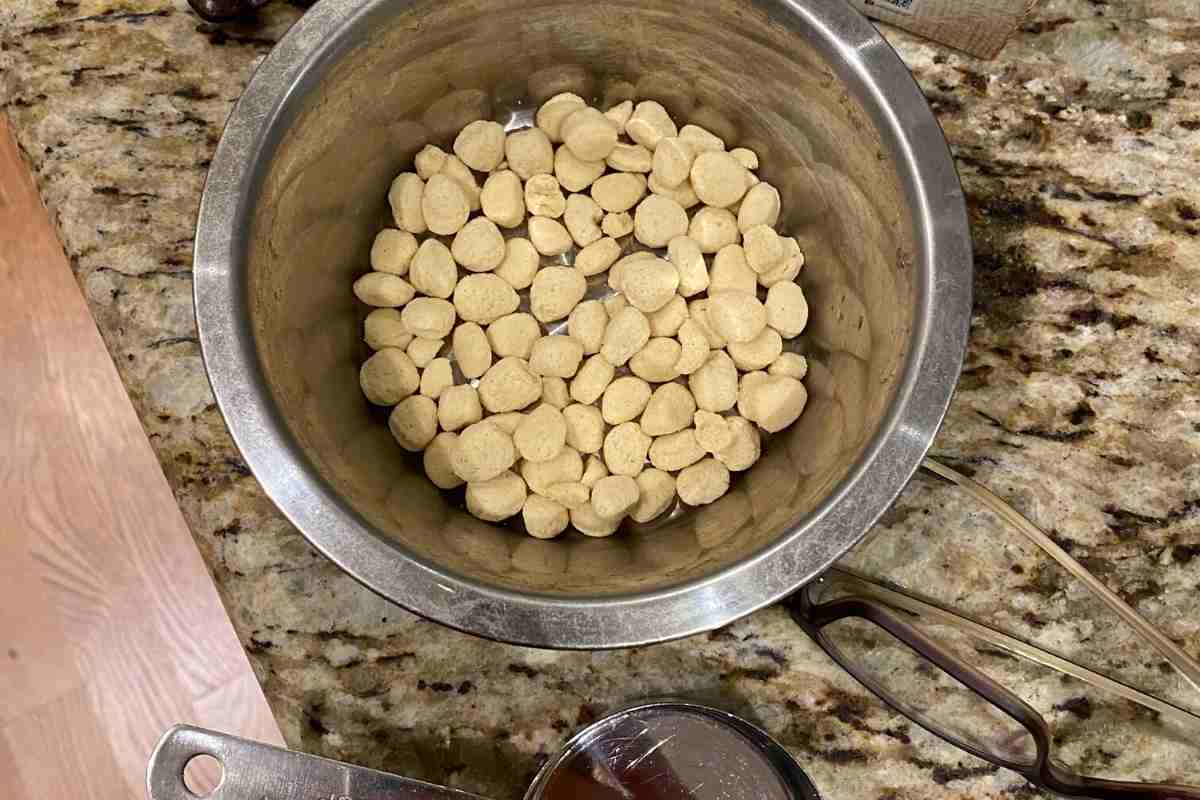 There are even pet water fountains to keep your Goldendoodle entertained while drinking water. This is a very personal preference.
When looking for a food and water bowl, also look at your new puppies eating style.  Many people will let their Goldendoodle eat out of Tupperware for a few days until they know if they have a dog that is constantly moving the bowl around the house or one that eats very fast. 
If your dog is moving the bowl around the house, consider a bowl with a rubber bottom to help it stay in place more. Stainless steel bowls are great for cleaning but may be strange for your puppy to eat out of.
If your pup is eating their food very fast, consider a puzzle bowl.
This is a great bowl to help slow down your Goldendoodle when they are eating. This bowl is designed for them to have to eat around different parts until they finish their meal. If your dog eats very fast, they are prone to vomiting shortly after eating or even Bloat.
This is a great automatic water bowl for your Goldendoodle. Some Goldendoodle's love to drink from a water fountain. This fountain is very quiet and provides your Goldendoodle with a fun place to drink water.
Food and treats
Picking out the food and treats for your Goldendoodle is one of the most important things.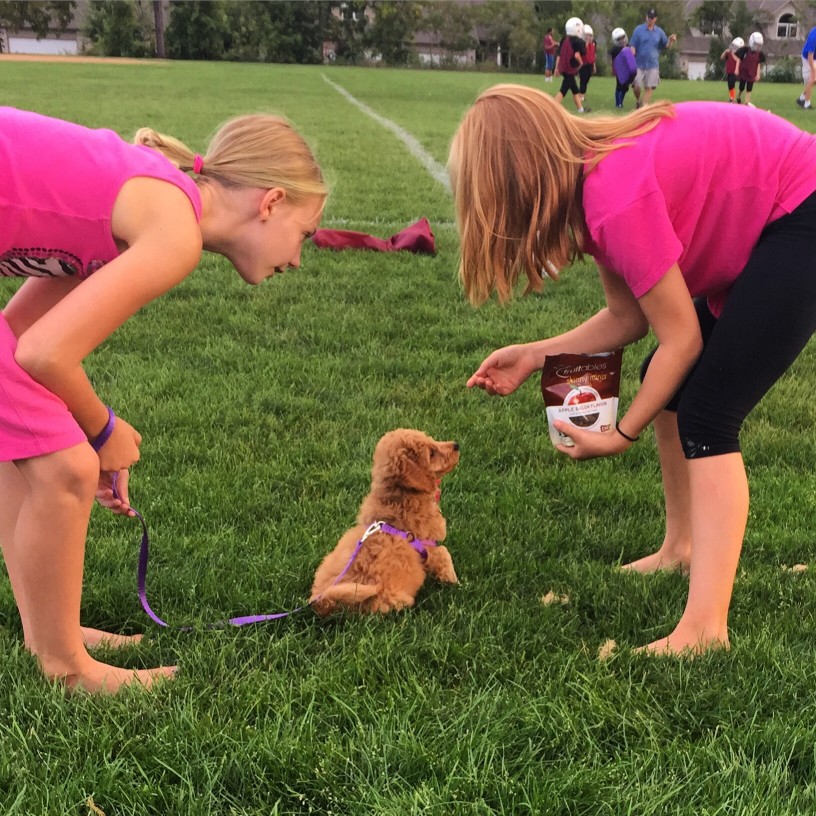 The food that you feed your Goldendoodle will keep them healthy and happy their whole life. Spend some time and look at the ingredients in your Goldendoodle's food to make sure that you are feeding them a balanced and wholesome diet. You can spend a lot of speciality dog treats, but all dogs love peanut butter.
Purina Pro Plan is a great diet to feed your Goldendoodle. This diet is completely balanced and provides all the vitamins and minerals that your Goldendoodle puppy needs. When you are feeding your Goldendoodle puppy, it is best to feed them a large breed puppy food. This type of diet is specialized for the fast-growing bones of a Goldendoodle.
Grooming Supplies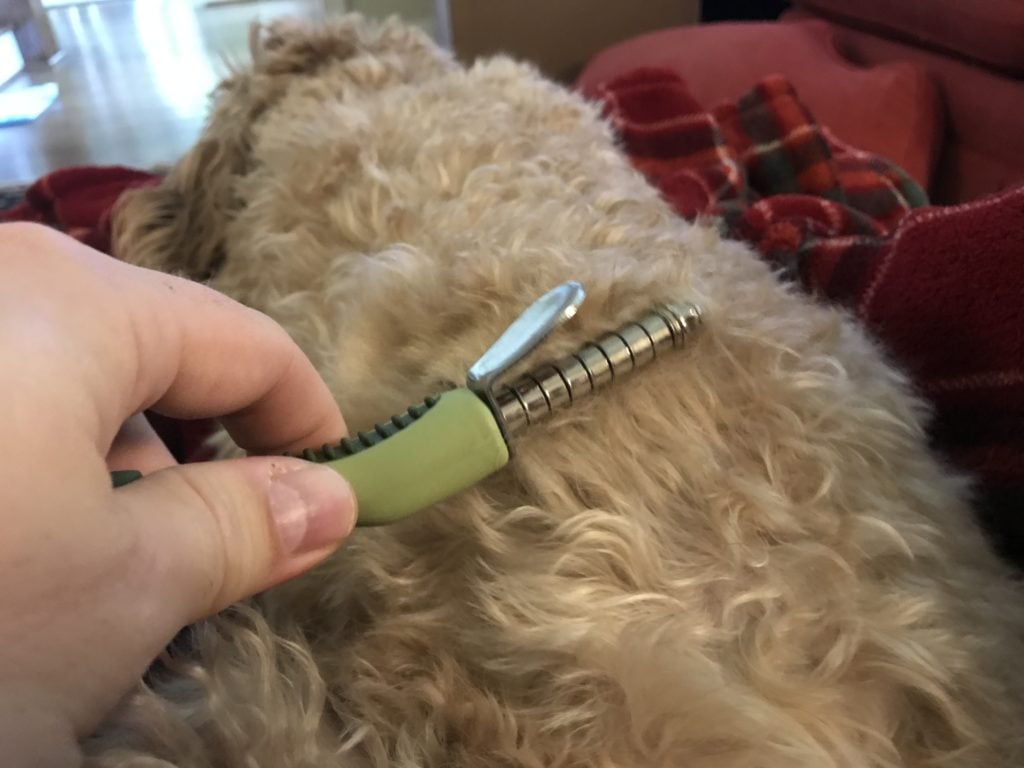 Your Goldendoodle will need to be brushed very often to prevent mats. Even if you plan on taking your Goldendoodle to the groomer, you will still need to do basic grooming at home.
It's important to have a toothbrush and toothpaste and use them regularly to prevent tartar. A god chew toy and edible chews help, but nothing beats a good tooth brushing. Nail clippers are useful if your dog's nails aren't too hard.
Be sure to have paper towels on hand to clean ears, and a towel for drying your dog off. If your pup is cold after baths, a heating pack can improve the comfort of your snuggle puppy.
There are many different types of brushes and combs that you may have for your Goldendoodle, but a slicker brush is a must-have. A lot of folks talk about buying detangling spray, but you can easily make it yourself at home.
Hertzko Self Cleaning slicker brush
This is a great brush to keep your Goldendoodle looking their best. This brush contains a self-cleaning button that will help get all the fur out of the brush.
Since a Goldendoodle's hair can range from straight and flow like a Golden Ret river to tight and curly like a poodle, this brush makes for the perfect brush for almost any hair type.
You will also need to give your Goldendoodle a bath every few weeks. Make sure that you invest in a good shampoo. You want a shampoo that does not dry out their skin and helps keep their fur looking great.
This is one of the best shampoos to use for Goldendoodles, who suffer from allergies. It is an antibacterial and antifungal shampoo to keep your Goldendoodle's skin healthy and happy.
This shampoo has many natural ingredients that will keep your Goldendoodle's fur shiny.
Identification Tag and microchip
The last thing you want to happen is to lose your new Goldendoodle puppies. These dogs are highly sought after and can easily get pickup up out of your yard.
If your dog is microchipped or has an ID tag on it is easier for them to find their way home if they ever get out of your yard and lost.

Dr. Sara Ochoa
You can pick up an ID tag at your local pet store or order them online. Many of these tags can come in different colors or shapes so that you can match your dog's tag to their collar or harness.
Home Again is a very popular microchip company that vet use. This microchip can be implanted by your vet, or you can do it at home if you feel comfortable giving your pet a shot.
This chip is one that is pick up with universal microchip scanners, so if your pet gets lost, any vet or animal control officer can scan your pet for a chip and return them to you.
Toys
Your Goldendoodle puppy will need toys to play with. Check out this article on the best toys for your Goldendoodle. Your Goldendoodle puppy will love to spend time playing catch in the back yard or tug-o-war with a rope toy.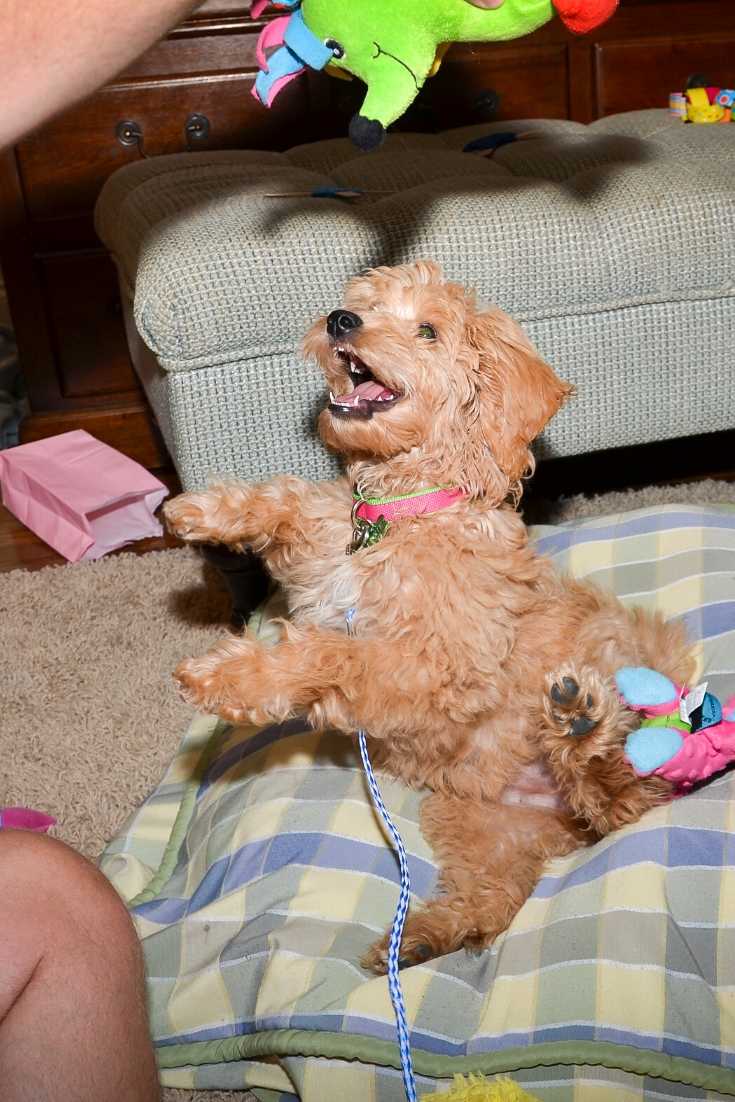 It is a good idea to have a few toys for them as soon as they get home.  When your Goldendoodle is playing with their toys, make sure that they are not eating parts of their toy as this could land you in the vet's office with expensive surgery and vet bill.  Kong toys are usually regarded as the industry-standard.
Cleaning supplies
If you have a puppy, they will eventually make a mess. You will need to invest in some good cleaning supplies to get out stains and odors your dog leaves behind.
When your dog has an accident, you will need to clean it up right away to help eliminate the smell of urine and prevent them from returning to that area next time they need to potty. 
First Aid Kit
Unfortunately, your Goldendoodle puppy will eventually have something wrong with them and need medical attention.
Having a first aid kit on hand will help you treat any problem in your Goldendoodle as soon as it arises, from their teeth to their paws. You can make this kit yourself or purchase it on that is already made.
You will need to include many of the basic things that you would for yourself.
Adventure Medical Kit Dog Series
This kit contains everything that you would need in case of an emergency with your dog. This is packaged in a nice travel bag for easy packing for when you take your Goldendoodle on a hike.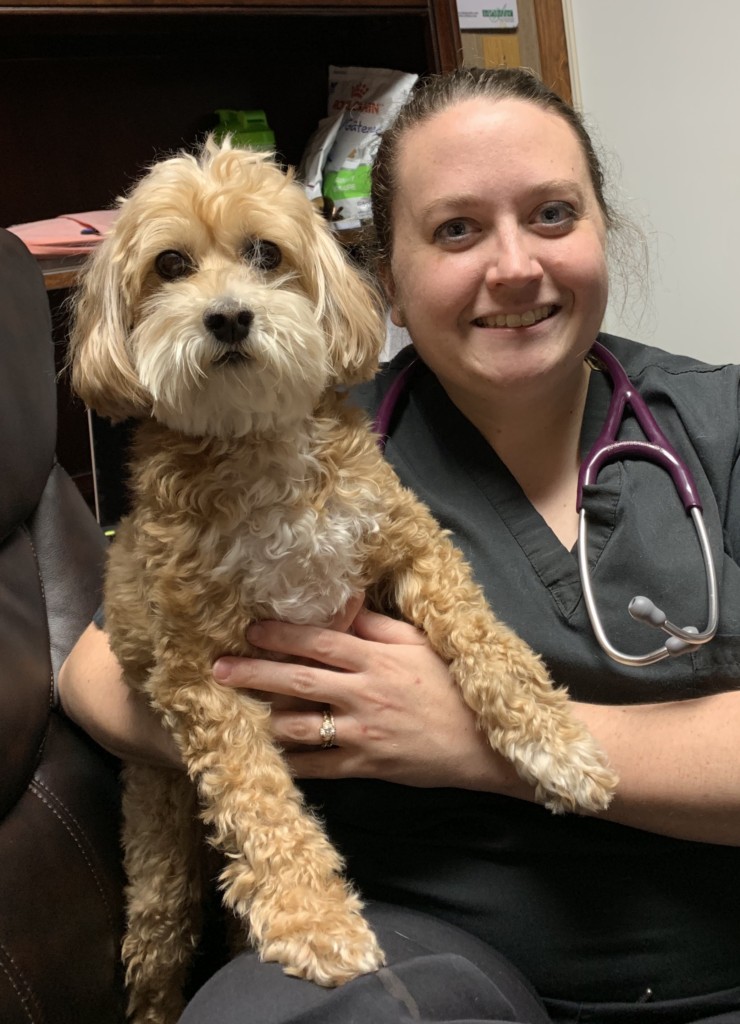 FINAL THOUGHTS
If you are about to get a Goldendoodle puppy, there are many things that you need to have in place for them to come home.  Following this Checklist, you will have all the needed things for your puppy to start off with all everything that they need.
Related Content You May Find Interesting
Here are some more articles that may be of interest to you if you're taking care of a Goldendoodle.
Top 10 Must-Haves: collar, harness, and leash; crate; dog bed; food and water bowls; dog food and treats; grooming supplies; identification tag and microchip; toys; cleaning supplies; first aid kit.
collar, Harness, and Leash: A traditional leash is better than a retractable leash. PoyPet No Pull Dog Harness and BAAPET Strong Dog Leash are two recommended products.
Crate: Mid West Life Stage Dog Crate is a great cage to purchase since it comes with a divider to adjust as your Goldendoodle grows.
Dog Bed: PetFusion Ultimate Dog Bed is a waterproof orthopedic bed, perfect for puppies and older Goldendoodles.
Food and Water Bowls: Look at your puppy's eating style before buying the bowls. Consider stainless steel bowls for easy cleaning, rubber bottom bowls to keep them in place, and puzzle bowls for dogs that eat very fast. AOLOVE Slow Feeder Bowl is a recommended product.