24 Best Toys For Goldendoodles They'll Actually Love!
If you are the proud owner of a Goldendoodle, one of the fastest-growing breeds in popularity, you know your dog is both highly intelligent, and full of energy. Due to their intelligence and constant need to be entertained and challenged, it is important to be strategic when you are planning on purchasing toys your Goldendoodle will love.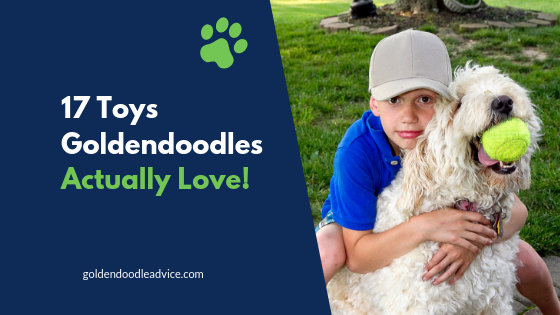 What are the best toys for Goldendoodles?
We've listed the best Goldendoodle toys below with an explanation of why we loved them so much.
Best Chew Toy: Benebone Wishbone Durable Dog Chew Toy
Best Squeaky Chew Toy: Spunky Pup Lil' Bitty Squeakers Dog Toy
Best Puzzle Toy: Outward Hound's Dog Brick Interactive Treat Puzzle
Best Rope Toy: Mammoth Flossy Chews Color Rope Tug
Best Stuffing-free Toy: Zippy Paws Skinny Peltz
Best Fetch Toy: ChuckIt Ultra Ball
Best Tug of War Toy: KONG Tug of War Toy
With so many Doodles toys on the market, finding the perfect one for your puppy can be difficult. Dog owners have their pick of everything from a plush squeaky toy to a classic chew toy or even a dog frisbee. Since Goldendoodles are such active dogs who need exercise activities, finding a good quality toy shouldn't be an exercise in frustration. Let's examine some of the best toys that a Goldendoodle might like.  Who knows, we might find one to help burn off some of the excess energy your cute little puppy has.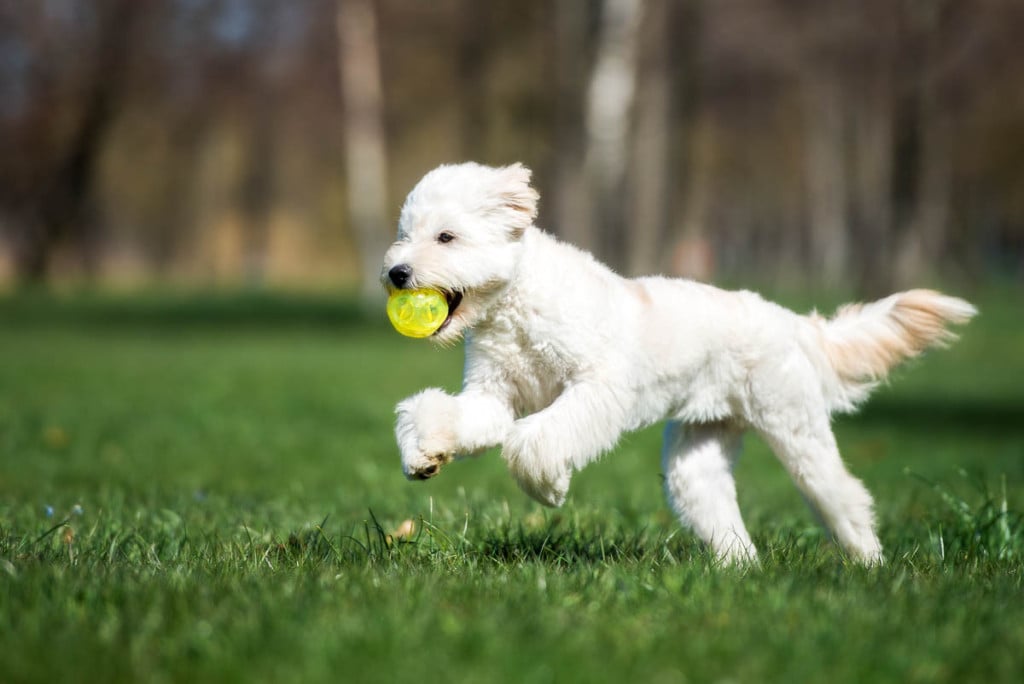 Whether you are currently a Goldendoodle owner or looking to join the club, this list will make you a hit with your best friend, giving you peace of mind knowing your pet is happy and entertained.
It is important to note NOT ALL toys are good for ALL types of dogs.
As all dogs are not created equal, neither are the safety of each toy across dog breeds. As responsible dog owners, we must ensure we have conducted extensive research when choosing appropriate dog toys for our pet(s).
As with most concerns with your dog, your veterinarian is the best source when looking to purchase toys for Goldendoodles.
Remember, just like children, dogs will have a toy preference, just be sure your dogs' "favorite toy" is safe for him.
Best Chew Toys For Goldendoodles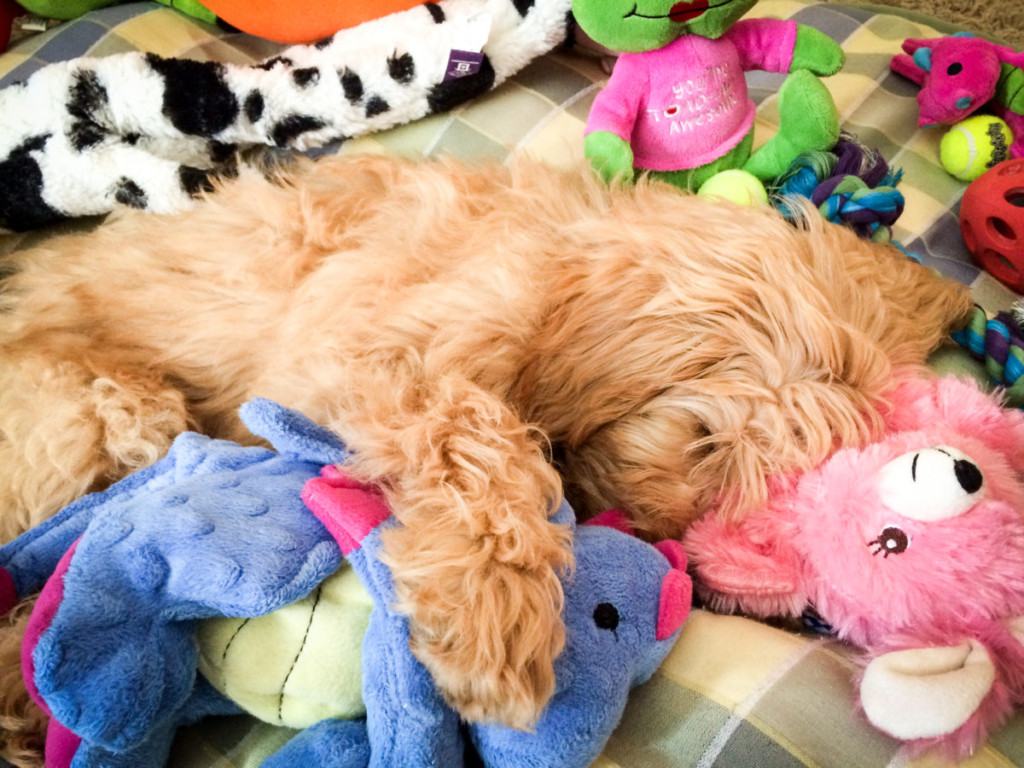 CHEW TOYS – These toys for Goldendoodles offer your dog the ability to aid in teething (for growing puppies), helping to soothe aching mouths, gums and teeth development, and having a cleaning effect on their teeth.
NOTE: Rawhide chews are considered dangerous for your pet and not commonly recommended by veterinarians. The chews pose a choking hazard as small splinters of the rawhide can get stuck in the dog's esophagus. Due to its resilient and long-lasting nature, the particles must be surgically removed.
If you must give rawhide chews to your dog, vets strongly urge the owner to take away the chew once it becomes soft and let them reharden. Veterinarians warn our dogs toy, specifically chew bones, should be soft enough to indent with your thumbnail to avoid the risk of breaking your dog's teeth. It is important to note, you should never give your dog a rawhide chew and leave them unsupervised.
If you are like me and do not want to take a chance with rawhide chews for your dog, there are recommended alternatives.
A great alternative to rawhide chews is bully sticks and smart bones for dogs. These popular alternatives contain additional plaque fighting ingredients aiding in better dental health for your pet. The bully sticks for dogs have the same benefits of rawhide chews – dental care, satisfying oral stimulation needs, and burning excess energy – all while being much easier for your dog to digest.
Benebone Wishbone Durable Dog Chew Toy
We love this chew toy because it comes in three different flavors; bacon, chicken, and peanut butter, and it comes in multiple sizes. The bone is made of durable material that can hold up to heavy chewers while occupying your dog with hours of entertainment. The bone is a Number 1 bestseller on Amazon, and with over 81K reviews, it has been tested by dog owners everywhere. 
Nylabone Power Chew Textured Dog Chew Ring Toy
Nylabone has been around for years and has an outstanding reputation for having good-quality chew toys. This ring is big enough to keep your Golden entertained and is made of durable nylon, so it should hold up. The toy is USA made and comes in a pack of three dog toys or just the single ring, depending on which you want to purchase. 
Petstages Dogwood Wood Alternative Dog Chew Toy
This toy mimics a tree branch or stick but is made from a durable wood by-product and synthetic plastic that is durable and won't splinter like gnawing on natural wood can often do. This product has a natural wood and bbq smell (don't ask me how), but dogs love it. The toy is USA made. 

Other great options for Goldendoodle chew toys include:
Smartbones Peanut Butter Chew -Mini – Chewing time is longer than normal chews.
Smartbones Rawhide Free Peanut Butter Chews – these chews are available in 4 sizes to better fit the needs of your dog.
6" Bully Sticks (Small) – Odor Free Bully Sticks USDA-Inspected
Best Squeaker Chew Toys For Goldendoodles
These are the toys for Goldendoodles you see that are in the shape of animals, cartoon characters, or spiky balls that squeak when pressed or chewed on. (Every pet shop and grocery store has a wall covered with them).
The trouble with most of these dog toys is that many are not very durable, so we tried to research ones that would hold up under the constant chewing of a Goldendoodle. We like them so much because squeak toys provide instant feedback for chewing, and a loud squeak will intrigue your dog to repeat the sound, so they can entertain themselves with it, if you need them to do so.  
Gnawsome 4.5" Spiky Squeaker Ball
This excellent squeaky toy ball helps clean a dog's teeth while he chews. These balls are well-built and won't break apart (other toys for Goldendoodles can disintegrate, creating a choking hazard). This toy has a hidden internal squeaker that your dog won't be able to get to (unlike lots of other squeaker toys), and the rubber is made from BPA-free materials. It is one of Amazon's top choices when it comes to toys for Goldendoodles.
Spunky Pup Lil' Bitty Squeakers Dog Toy 
This plush squeak toy happens to be shaped like a hedgehog, but the company makes about four other animal figures. This squeaking toy is a combo squeaker ball and plush toy made from durable materials. The item is manufactured in China, but the reviews are great for larger dogs like Goldens that love to chew. 
Best Puzzle Toys For Goldendoodles
PUZZLE TOYS – Goldendoodles benefit from these toys, since they are highly intelligent dogs, you as the pet owner should be concerned with keeping them entertained and intellectually challenged. If you do not keep your Goldendoodle challenged they can become easily bored if their minds do not receive the proper amount of stimulation.
Outward Hound's Dog Brick Food Puzzle
This food puzzle box by Outward Hound allows you to hide treats and make your dog use his wits to find them. There are three different kinds of levels; flip, slide, and lift compartments will keep your Golden entertained. You can hide your dog's favorite treats in several compartments. The unit is surprisingly durable, made of BPA-free plastic that cleans up with soap and water between uses. The treat puzzle game is another Amazon top seller with over 80k reviews.
If your Goldendoodle gets really good at these types of puzzle toys, you can upgrade to this more advanced version designed by Nina Ottosson:
RETALPQ Dog Puzzle Toy
We love this puzzle toy because it interacts with our dog in multiple ways. Puzzle toys toys for Goldendoodles offer treats at the dog's request, and it won't take long for your Golden to learn to hit the center button. This toy doubles as a slow feeder, making your dog work for dinner. The rotating center disc will help the dog learn how to push it around for food. Most dogs will find this toy a pleasing interaction and will help keep your dog interested in mealtime instead of inhaling it. 
StarMark Large Bob-A-Lot Interactive Dog Toys
Another highly recommended interactive dog toy is the Starmark Large Bob-A-Lot. Many owners are happy with the exercise it provides their dogs (can keep a dog entertained for an hour) and have proven to last longer than their competitors.
This is a great toy for keeping your dog entertained, encouraging exercise, and stimulating their minds, a benefit both you and your dog will love. It is recommended the small-sized toy be purchased for small and medium dogs (normally under 40 pounds).
Smelly Matty Snuffle Mat
Mental stimulation and IQ boosting education for puppies to trained smart dogs. This product is great as you can adjust the difficulty level depending upon the dogs' breed and intelligence level.
Best Rope Toys For Goldendoodles
ROPE TOY – Let me start by saying I am not a fan of ropesfor any dog unless they are constantly watched while playing with these types of toys. Many of the aggressive and large dog breeds have had bad experiences as they have torn apart the ropes and gotten the rope material stuck in their abdomen. Most veterinarians do not recommend ropes for your dog.
As I mentioned, these can be easily torn apart by motivated dogs, with the remnants ending up in the stomach and intestinal tract, often resulting in surgery to remove it.
However, if you are willing to put in the time to watch your dog while playing with ropes, please review the following suggestions.
This package of ten various toys are a favorite among Goldendoodle puppy owners, having proven more durable, while providing a wide variety of entertainment for your dog. As puppies, while your dog starts to chew toys, they get their teeth clean and gums massaged, while aiding in the reduction in biting behavior.
These toys for Goldendoodles are made of high quality, non-toxic materials which cannot be easily broken allowing them to last longer. The toys are attractive easily catching the attention of your pets.
Mammoth Flossy Chews Color Rope Tug
This cotton rope is a three-knot tug toy that will satisfy most dogs' chewing habits. We recommend the large size for Goldendoodle (anything smaller won't last). The fibers in this toy are designed to help clean your dogs as they chew. Mammoth Products has been in business since 1995 and is a leading dog toy innovator.
Feeko Dog Rope Toys 
This rope toy is strong enough and large enough to be a challenge for any chewer and has four or five knots that will take a bit for your dog to unravel. The toy will keep your Goldendoodle entertained for hours and is perfect for playing tug with your puppy. It claims to be completely indestructible, which may or may not be accurate, but with over 3k reviews, it is well built for Retrievers. 
Pacific Pup Toy Collection (supports a non-profit)
Pacific Pups Products are geared for aggressive chewers, the package of 10 toys is made with safe, non-toxic materials, and tested by the strongest chewers. A large portion of all their proceeds are donated to rescue dogs from high-kill shelters, a great cause to support.
Best Toys Without Stuffing For Goldendoodles
STUFFINGLESS TOYS (or no stuffing squeaky or crinkle plush toys, for the more destructive dog)– The stuffed animals and squeaky toys are a favorite for the Goldendoodle breed, I love to see my little girl curled up, fast asleep, next to her favorite fox toy. When she was a puppy, she would drag her stuffed fox around and then fall asleep with it, I know its softness was soothing to her.
Veterinarians warn against inappropriate stuffed toys as they can easily cause choking or intestinal obstruction. Your dog should not be able to disembowel, shred, or ingest bits of this doggy toy. The toy must be bigger than the dog's mouth, if it fits comfortably inside your dog's mouth, it is instantly a choking hazard and should be thrown away.
Zippy Paws Skinny Peltz
Skinny Pelts are a favorite among dogs with 3 large characters; fox, raccoon and squirrel, all keeping boredom at bay.
SPOT Skinneeez Crinklers
The crinkle material makes an enticing sound that sends my little girl running in search of her favorite toy. The realistic animal design and long body provides flip-flopping action dogs love.
SPOT Ethical Pets Jungle Skinneeez Tug
These fun Jungle Skinneeez Tug toys are one of the popular stuffing-free Goldendoodle toys designed with a durable rope through the body, and rope loop handle. The handle allows you to play tug or fetch with your dog, it is also great for solo playtime or a great cuddle buddy during sleep.
Best Fetch Toys For Goldendoodles
FETCH TOYS – Since your dog is very active and full of energy, fetch is a must! Dogs love to chase and fetch toys, which can be done on the beach, on a field, in your back yard, or even in your house. Look for toys that will keep your dog interested and active for better health. The options are wide open for fetch toys, such as teething rings, frisbees, and squeaky tennis balls. We've listed a couple of favorites below.
Kong Ball
This hard rubber ball is virtually indestructible and is designed as a toy for games of fetch. There are many variations of the Kong toy, but all of them are puncture resistant, and this is a toy your dog will go to repeatedly. The ball is made in the USA and is reasonably priced.
ChuckIt Ultra Ball
This toy is a textured hard rubber ball that looks like a glorified tennis ball. It is intended for heavy chewers, which makes it perfect for Goldendoodles. It floats in the water, so it is a perfect toy to introduce your dog to the water (start simple at first – don't chuck it out into the middle of the ocean). This toy has a 4.8 rating on Amazon and is one of their best sellers. They also make a squeaker ball that is on the top of many dog toy lists. 
Hyper Pet Flippy Flopper Dog Frisbee
This frisbee is made especially for your pets' safety, unlike plastic frisbees. This toy will float in water and it is safe for your dogs' teeth. It is constructed of soft rubber and durable multilayer nylon, this is the perfect solution for fitness, exercise and training.
Best Tug of War Toys For Goldendoodles
The trouble with most ropes or other tug-of-war toys is that they are not very durable. It doesn't take long for a dog like Goldendoodle to chew through a rope. While aggressive chewers can be hard to satisfy, we found a couple of toys that are made for large dogs. 
KONG Tug of War Toy
Kong strikes again on our best list with this durable rubber tug-of-war toy. The toy comes in two sizes, and the handles are plenty big to let your Golden puppy clamp down and pull. This toy stretches and recoils and is completely indestructible. (Unlike most ropes that last about a day). The toy is built in the USA (KONG is headquartered in Colorado). 
Goughnuts Maxx
This durable toy looks like a figure eight where your dog latches onto one end, and you hang on the other. It stretches, recoils, and will provide a lot of wonderful play time for your Goldendoodle. The trick about this toy is its width. A dog cannot complete their bite if the toy sticks out the sides of its mouth, so your dog will keep trying to readjust its bite around the toy. This toy comes in two sizes, so depending on how grown your Goldendoodle is, you can purchase the appropriate-sized tug toy. 
Conclusion
When searching for the best toy for your Goldendoodle (or any breed) it is best to keep in mind the activity and intelligence level of your dog. Some breeds (like the Goldendoodles) need the proper amount of care by providing appropriate mental and physical activities found in toys meant for these purposes. Mental challenges will help your dog learn and keep his brain active, just remember you should always supervise your dog while playing with their toys.
 As pointed out, dog toys can satisfy different purposes; puzzle toys for mental ability, fetch toys for exercise, and chew toys to stave off boredom, with the added benefit of improving dental care.
When it comes to dog chew toys, new studies have shown that certain unsafe dog toys (usually Chinese) expose dogs to many harmful substances, for example, dog chews containing rawhide can possibly contain Salmonella or E. Coli. Further, digestion issues can occur in some dogs, therefore, it is best to avoid these types of toys including pig ears and cow knuckles.
Using toys to entertain, exercise, and keep dental health in check can be found for all breeds, sizes and pet owner's budgets. Have fun browsing for your next treat for your best friend and don't forget to buy for their stockings too!