Can a Goldendoodle Be a Service Dog?
A service dog can prove to be a great asset in many situations. They are there to provide support and help, they can get someone through a panic attack or other issues, and they are always a constant companion that the handler needs. When looking for a new service dog, you need to pick out the right breed for your needs. Could a Goldendoodle be a good option for your service dog?
A Goldendoodle can be a good service dog. They are easy to train and can catch onto the different tasks they need to do quickly. Their temperament is perfect for this kind of work as they can remain calm and patient and know how to focus just on their handler, even when there is a big crowd. The size of the Goldendoodle is perfect because it allows them to be just the right height and weight to catch their handler if needed, without causing more damage.
There are a lot of good reasons why a Goldendoodle may be the right option for you as a service animal. Let's take a closer look at some of the reasons why a Goldendoodle is a great service dog for your needs.
Can Goldendoodles Be Service Dogs?
If you need a service animal, you may spend a lot of time researching to figure out which breed is going to be the best for this kind of work. The good news is that any dog could be a good service animal.
There are no real breed restrictions on which dogs could be given the rights to help you out when you need some help with a service dog.
Keep in mind that just because all of the breeds of dogs are technically able to be a service animal does not mean that they should. There are some breeds that tend to do better in this role than some of the others.
An example of this is the Goldendoodle. These are the perfect dogs for this because of their temperament and their size.
The Goldendoodle tends to be an intuitive dog, which makes them ideal for being a service dog. They are also able to quickly figure out when something is wrong with their owner and can respond quickly when necessary.
With the right kind of training, the Goldendoodle will help alert you to some potential changes and will give the right assistance as well.
If you are interested in having a service dog to help out, then the Goldendoodle breed tends to be a good option. Their sturdy build and larger size will help with some of the bigger tasks that a service animal needs to do, such as bracing to help you sit down or when you need to climb the stairs.
Since this can cause some work on the joints of the dog, you need to make sure that the Goldendoodle you choose is larger. This helps to distribute the weight across their shoulders and will not be too hard on them in the process. The Goldendoodle can help with this while keeping the weight and not getting hurt.
The Goldendoodle also has the right temperament for this as well. When you need a service dog for anxiety or mental health issues, this is a calming breed that can help get you through the panic attack or your episode.
They are docile and it does take quite a bit to make the Goldendoodle upset or mad. This makes them the perfect option for using as a service dog.
Why are Goldendoodles Good Service Dogs?


You will quickly find that the Goldendoodle is a good option when it comes to being a service dog due to their temperament. This friendlier disposition is the reason why so many people love this dog, whether they choose to use them for a service dog or not.
Both Poodles and Golden Retrievers have the right mindset to make a good working dog and service dog for your needs.
The Goldendoodle are also great at learning new things as quickly as possible. This can help when you need to train a new dog for the work quickly. Training dogs for these service tasks can be complex and will include a number of steps to make sure they are prepared and ready to do the work.
For example, you need to train the dog how to be there for their handler, how to search through rooms for someone who may have PTSD, teach them to retriever the items, and to alert others to diabetes and seizures.
All of these are difficult tasks to do on their own, but they are things that the Goldendoodle needs to know in order to be a service dog.
Goldendoodles also have that natural inclination to love people, especially those they spend the most time with. They are very affectionate to their owners and will spend most of their time happily with others.
It is uncommon for a Goldendoodle to get overwhelmed by a big crowd of people as you may find when out with the handler. Even when something adds a lot of pressure, the Goldendoodle is a good breed for this because they will keep their focus on the handler, always looking for what the owner may need from them.
The Goldendoodle is eager to please and will work hard to earn praise at any chance. This breed is loyal to a fault and wants to be right there to provide the necessary support. You never need to be worried about the amount of time they spend with you; the Goldendoodle loves all this extra attention and is proud to work hard to help you out.
While a Goldendoodle is great because of their temperament, another benefit of having them be your service dog is that they are hypoallergenic. This means that they are not going to shed at all in most cases.
This makes them a perfect addition to have around for those who worry about allergies or who do not want to clean up all that extra dog hair around the home. And if you need to take the dog out of town, you never need to worry about anyone else responding negatively to the dog either.
Should I Use a Goldendoodle for a Service Dog?
There are many great dog breeds that will do well as a service dog, and the Goldendoodle is one of these. While you do need to make sure that the Goldendoodle is properly trained to work as a service animal before you use them as well, this breed tends to do very well.
If you have a chance to choose a Goldendoodle as your service animal, then you should go for it. They will not let you down and you will love the companionship and more that they will provide during this work.
Is the Goldendoodle Big Enough to be a Service Dog?
It is best to choose a Goldendoodle who is medium to large sized for their breed. The smaller ones may not be up to the task of a service animal and can get hurt in the process.
The larger Goldendoodles will have enough strength in order to handle the weight if they need to help their handlers down to the ground safely and are more up to the task to handle being a service dog.
All Goldendoodles do a great job at helping out their handlers and know how to be there and pay attention when something goes wrong. You can't go wrong when choosing a Goldendoodle to be your service dog.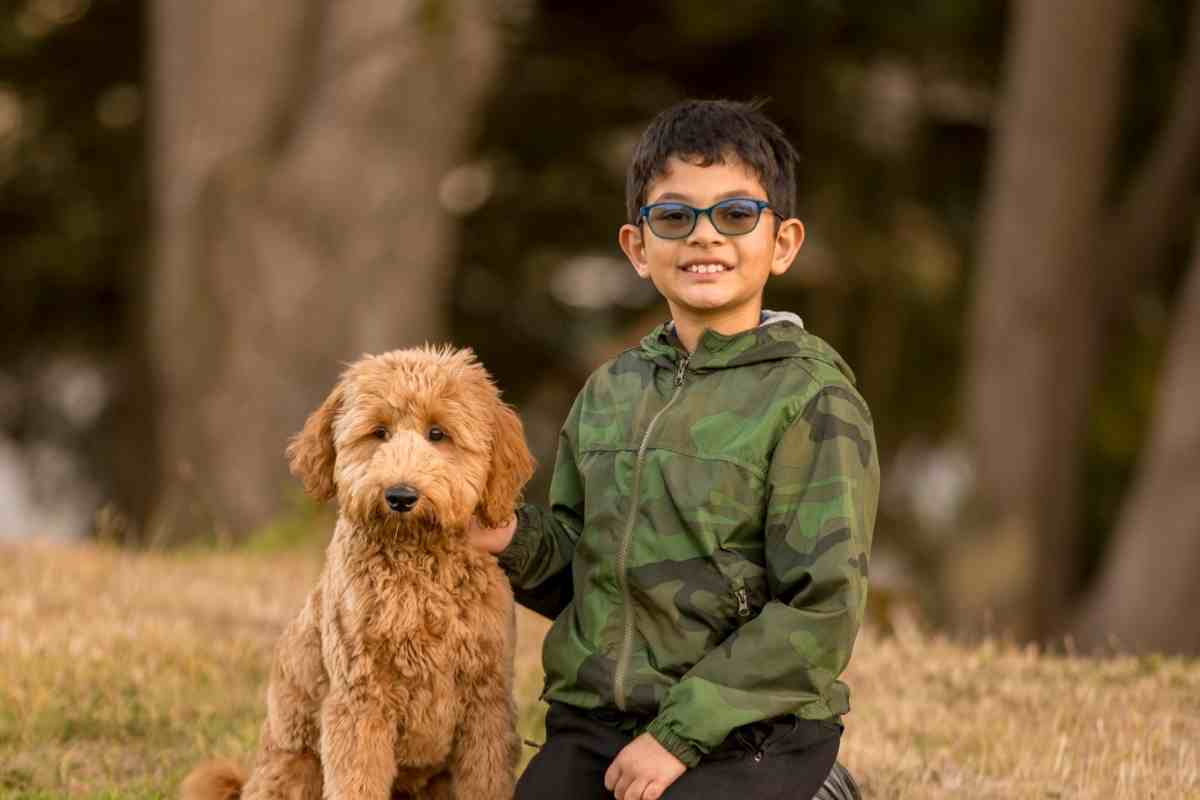 Is the Goldendoodle Easy to Train as a Service Dog?
The Goldendoodle can do surprisingly well when it is time to train as a service animal. They know how to learn the commands quickly and they like to get praise and attention for all their hard work. This makes them strive harder to figure out the right way to get things done and will help them learn faster than before.
Keep in mind that it will still take the Goldendoodle some time to learn all the tricks that they need to know. There is a lot that goes into training a service dog to be the best companion possible for their owners.
However, compared to some of the other breeds that are used as service dogs, you will find that the Goldendoodle is a great one to have around because they learn quickly and aim to please their handlers.
Choosing the Goldendoodle for Your Service Dog
There are many different types of dogs that you can use when it is time to pick out a service dog for your needs, but one of the best options out there is the Goldendoodle.
They are quick to learn, love their handlers, and have the temperament to love the job without getting easily distracted along the way. When looking for your service dog, you can rest assured that the Goldendoodle is going to be a great choice.