Whether you work, need to run errands, or are thinking about taking a day trip somewhere, you may be wondering, can your Goldendoodle stay home alone? And if they can for how long?
Goldendoodles can stay home alone, depending on their age and training does determine how long they can and should be left alone. Though it is important to keep in mind Goldendoodles are a very sociable breed and they will most likely get lonely/bored without the proper measures taken.
Other factors to consider are their health, if they have access to the bathroom, and of course their age and training. The next paragraphs will go over how long you are able to leave a Goldendoodle home depending on their age below.
What To Consider
If your Goldendoodle is still a puppy, the max recommended time to leave them home alone is 4 hours, that's only if your puppy is over 4 months old, if they are younger than that you should not leave them home alone for more than 2 hours as they have small bladders and might not be fully potty trained yet.
If your Goldendoodle is over 6 months and potty trained, they can be left up to 6 hours if absolutely necessary but is not recommended if you don't have someone to come during the day to take them out, give them attention, and exercise.
Senior dogs should be treated like puppies and should not be left alone for more than 4 hours as they may have health problems causing them to need to use the bathroom more frequently like puppies.
You may also want to consider training, has your puppy learned not to chew things that they aren't supposed to or get into things they aren't supposed to do?
Training To Leave Your Goldendoodle Home Alone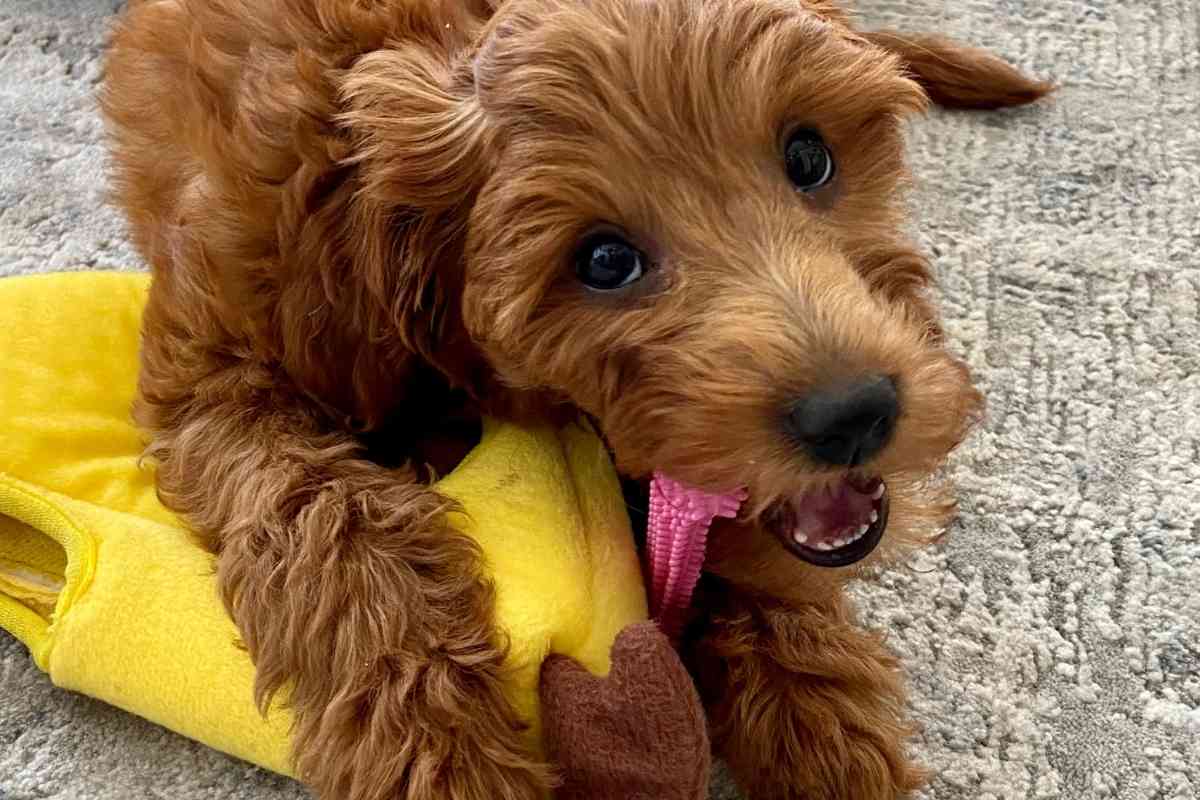 Start with crate training, though you don't want to keep your dog in their crate for the full 6 hours if you are gone, it is good to train them to be comfortable with it. From a crate you could also create a small play space where they are allowed to roam while you are gone and work up to leaving them out so they have access to their food, toys and room to just be!
Exercise your pup before you leave, take them on a walk or outside in the backyard to run around and play with them giving them lots of attention before you leave to wear them out so they will be tired for a while. A general rule of thumb is that dogs need around 60 minutes of exercise a day, so try giving them 20-30 minutes at least before you leave and then the rest when you get home!
Invest in a doggy cam so you can check up on them throughout the day.
Leave out a full bowl of food and water as well as interactive treats and toys such as puzzles to help them stay busy and not get so bored and lonely. There are also licking mats/Kong's you can fill with peanut butter/yogurt or another treat and freeze to keep your pup busy and entertained.
Consider leaving a soothing music station on to help them stay calm.
Another great idea if you are going to be gone 6-8 hours is to hire a dog walker to come and take your dog out mid-day for a bathroom break/walk and just some interaction so they don't get too sad. Doggy daycare is another great consideration if your dog is friendly and is able to get along with other dogs, this will provide them with interaction and exercise while you are gone and you will know they are being well taken care of.
Keep an eye out for any signs of separation anxiety in your dog so you can treat that as necessary. Signs include your dog whining/crying before you leave and following your around as well as continued crying after you've left, not eating, signs of destruction, accidents with going the bathroom. You can help your dog with this anxiety by the training above, getting professional help, and possibly medication prescribed by your vet if problems persist despite training.
Picking The Right Doggy Daycare/Dog Walker
Your dog is your best friend, you want to make sure they are safe and receiving the best care possible whether it be someone that comes once a day to walk your dog or a daycare where your dog is at all day, you want to make sure they are professional and keeping your pup safe and happy, here are some tips for picking the right professional care for your dog possible!
For a dog walker:
Check their licensing/insurance and qualifications, experience as well as their reviews and those who might recommend them!
Talk to their customers and see how happy they are with their service.
Spend time with them with your dog to see how they interact.
Discuss pay and hours when you'd like them to come, consistency is important!
Make sure to exchange contact info so they can always reach you in case of an emergency.
Before you leave your dog to be taken on walks consider the following:
Their tags are up to date
Inform walker of any issues beforehand any behavioral issues on walks such as if they pull, try to run away, are aggressive towards other dogs etc.
Leave route instructions if needed, any places needing to be avoided (aggressive neighborhood dog etc.)
For a doggy daycare:
Ask trusted friend/pet owners for recommendations as well as your local vet office as they might have one they recommend
Google them, check their ratings/reviews
Tour the daycare and take note if they have adequate space, staff, how many dogs will attend etc.
Other things to consider is if they have cameras/live stream so you can check on your pup as you please, report cards on how your dog did that day/ate/play etc.
Ask questions such as their rules and regulations for breaking up dog fights, giving dogs breaks, sanitation, hours etc.