Do Goldendoodles Need Winter Coats?
Some dogs have fur made for cold weather, and others have fur made for warmer weather. This means that depending on the thickness of a dog's hair, they may or may not need a winter coat when going outside.
Goldendoodles need winter coats for weather that is colder than 45 degrees Fahrenheit. Goldendoodles should be put in a sweater or coat when they go outside during cold weather. Goldendoodles do not have undercoats, so they need an extra outside layer of warmth to protect them.
Goldendoodles are a mix of Golden Retrievers and Poodles, therefore, they are not bred for cold weather. Their coat is fluffy enough to protect them from the cold, but they won't want to be without that extra layer of warmth for longer than a few minutes.
Where to Get a Winter Coat
If you live in a place that gets below 45°F in the fall or winter, then you should invest in a winter coat for your Goldendoodle. If you are going to bring your dog outside for a walk, it will be cold enough for your Goldendoodle to need something to keep them warm. (Source)
Buy The Book!
Ready to unlock the secrets to a happy, healthy Goldendoodle? Grab your copy of 'D Is For Doodle' today and take the first step towards becoming the best Goldendoodle parent you can be. Your Doodle's brighter future is just a page away!
You can find many coats online for your dog—all you need to know is their size. There are four different sizes of Goldendoodles, and that will help you determine what size coat they need. There are Toy Goldendoodles, Miniature Goldendoodles, Medium Goldendoodles, and Standard Goldendoodles. (Source)
The Toy Goldendoodle is about 10-25 pounds and grows to be 15 inches tall or less. For a dog this size, you should be looking at small coats that will fit your dog. If you have a Toy Goldendoodle, make sure the coat is lined with fleece or another soft material so they have some extra insulation. A great coat for Toy Goldendoodles can be found here.
If you have a Mini Goldendoodle, they will be about 25-35 pounds and 15-17 inches tall. For this dog, you still want to look at small coats that have a fleece lining to help them fight off the cold weather. One dog coat that will do so can be found here.
If you have a Medium Goldendoodle, then you will want a bigger coat than the ones above. This dog will grow up to 35-50 pounds and 17-20 inches tall. To get the right size coat for your dog, use the measurements included with the coat as a guide. They measure the neck and torso. This coat on Amazon is a great option for a mid-sized Goldendoodle.
And lastly, the biggest Goldendoodle is a Standard sized one. These dogs grow up to be 50-90 pounds and 20-26 inches tall. These dogs need a large coat, and there are lots of great options on Amazon for coats that will fit this dog.
When a Goldendoodle Needs a Winter Coat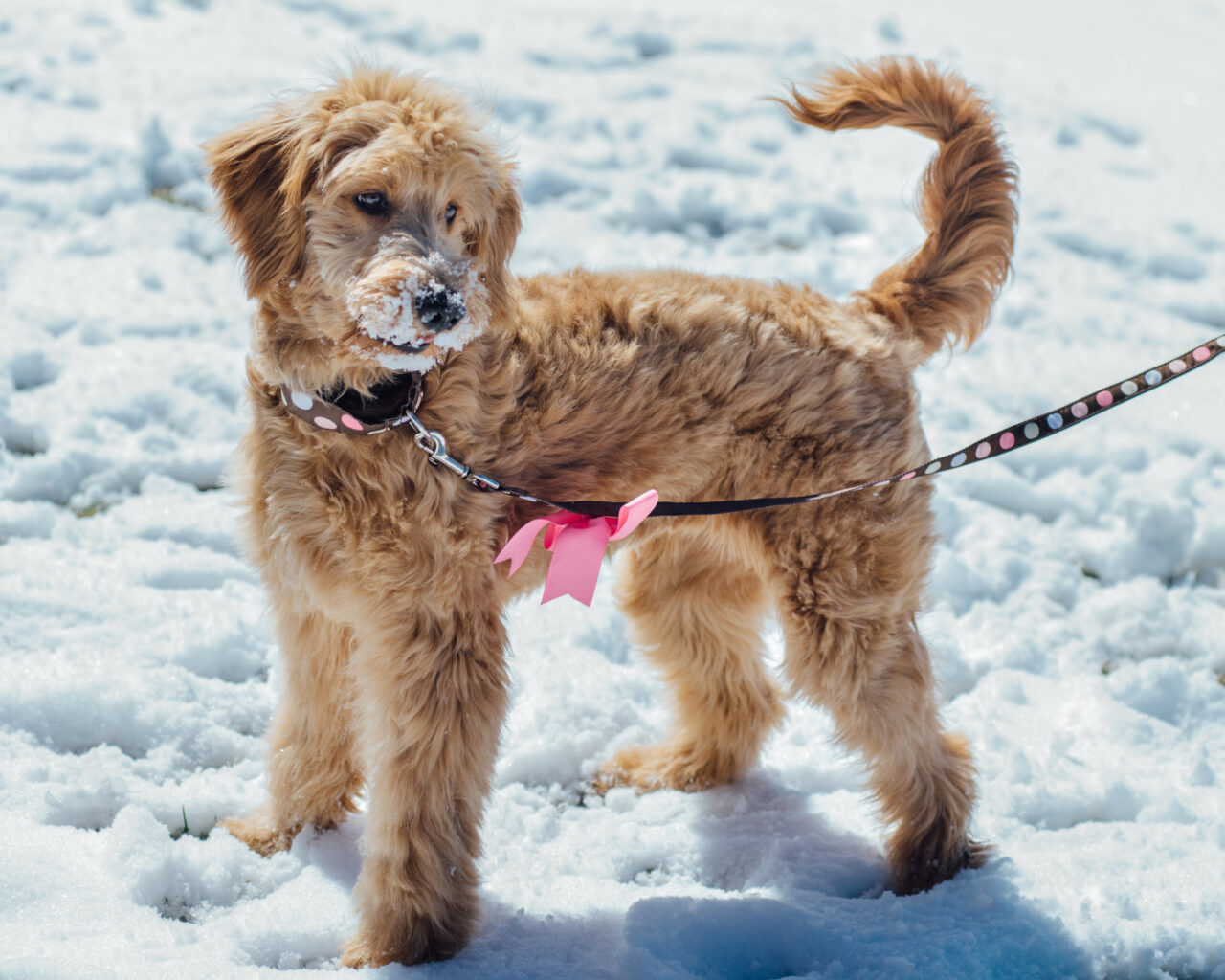 A Goldendoodle needs a coat or thick sweater when the outside temperature is lower than 45°F, but only if they are going to be outside for more than a few minutes.
If it is 32°F or lower, then your Goldendoodle absolutely needs to wear their coat, even if they are only stepping outside for a minute. It will be too cold for them to resist shivering, and they will want to get back inside your home as soon as possible. If it is 45 degrees or close to it, then you can let your dog help you judge if they can step outside and use the bathroom with or without needing a coat.
Overall, it is better to put your Goldendoodle in a coat to keep them from getting cold rather than sending them out without a coat, as it can suffer from hypothermia.
If you are going on a walk with your Goldendoodle, then you should put them in a coat. If your dog is going out with you to places like friends' houses or stores, then you should put them in a coat or bring one with you. Your dog will want to be warm if they are going to be outside in cold weather for too long.
Other Dog Snow and Winter Products
There are plenty of amazing products for Goldendoodles to wear in cold weather. Things like boots, full-body and leg coats, beanies, and healing balm for chapped noses are all great products that work well when the weather is cold.
If you get snow in the winter, then you likely have salt on the sidewalks and streets to help melt ice. This can hurt a dog's paws, so getting snowshoes for a dog not only protects them from the cold, but it also protects their paws from getting hurt. Here is a link to a pair on Amazon for only $19.99.
You can get a paw balm that can help protect your dog's paws and keep them treated during the cold winter. It can be found on Amazon for $5.95.
The coats above do not cover the dog's legs, but a coat with sleeves for your dog's legs can come in handy. You might have lots of snow during the winter, and the more coverage in a coat, the better. Here is a link to a full-body coat on Amazon.
How to Tell if Your Goldendoodle is Cold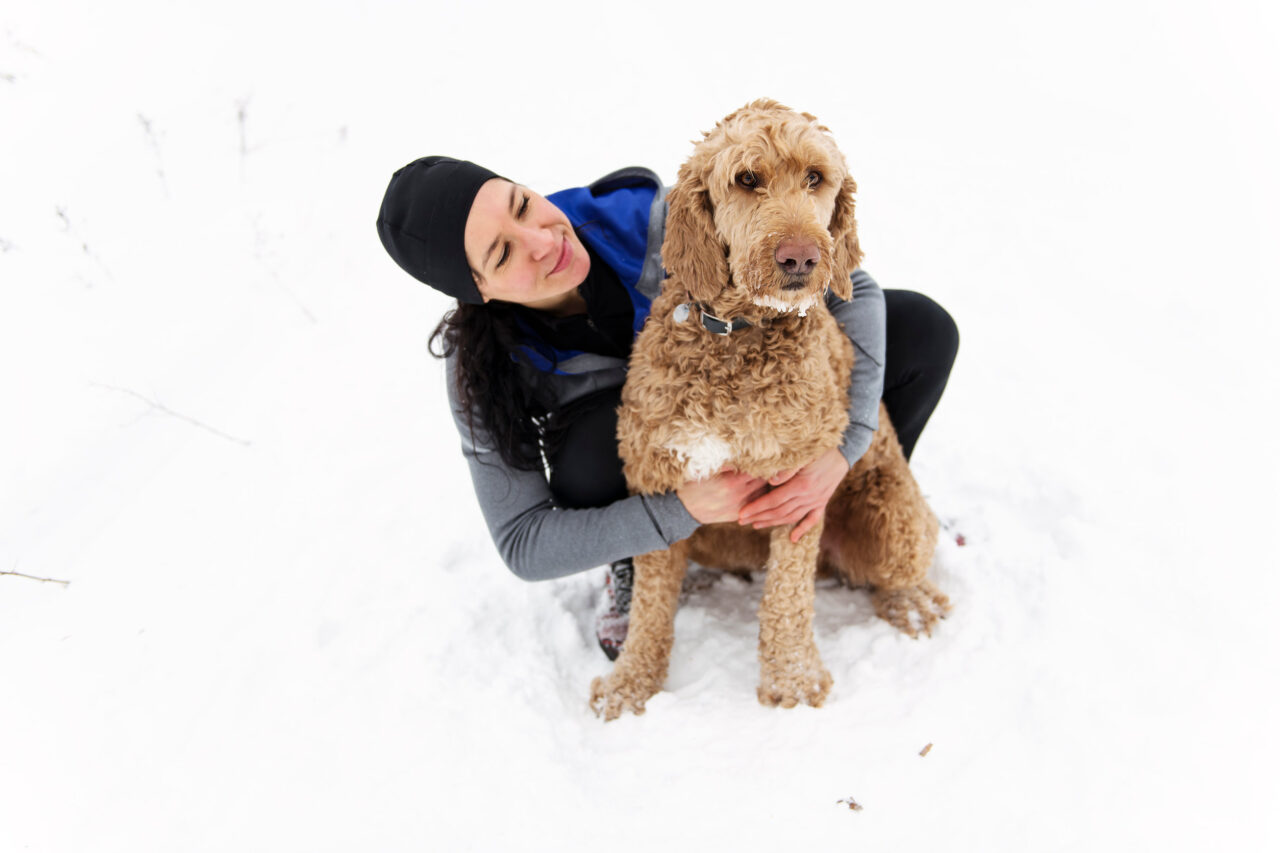 Your Goldendoodle will show you that they are cold if you don't put a coat on them. They will shiver, wine, slow down, and curl up to try and get warm. If you are outside and want them to run in snow for a bit, make sure you have their coat handy so that after a couple of minutes you can put their coat on them to help them stay warm. (Source)
If where you live gets cold during the winter, then get these products for your dog, as they will keep your Goldendoodle safe and protected against the harsh weather. They will enable you to take walks and play outside in the snow because they will keep your dog warm, and you won't have to worry about hypothermia.