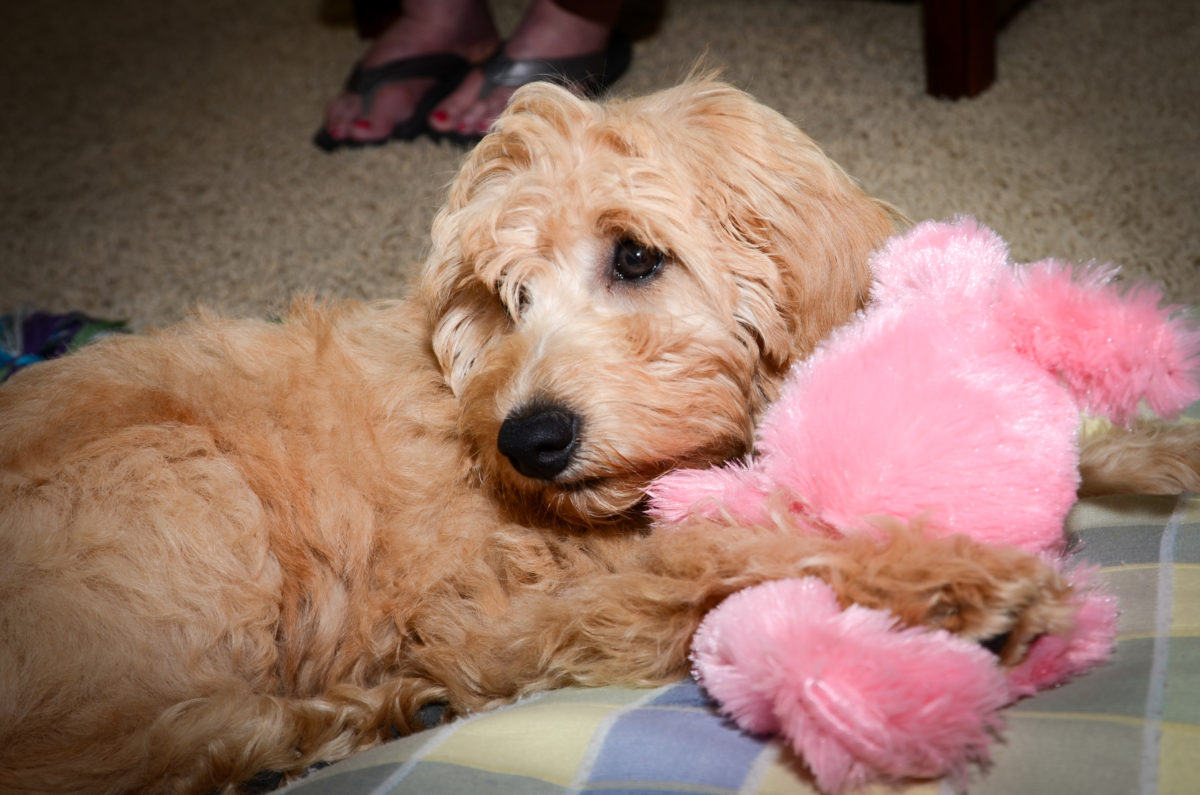 Goldendoodles can make the perfect family pet. They're cute, smart, playful, and fluffy. Some Goldendoodles even have a coat type that won't bother some allergy sufferers. Are you thinking about adding a Goldendoodle to your family?
Goldendoodle puppy prices vary a lot by the breeder. I got prices from some of the most popular Goldendoodle breeders on the internet to give you an idea of how much you can expect to pay for a Goldendoodle puppy.
How Much Do Goldendoodle Puppies Cost?
How much do Goldendoodle puppies cost? Goldendoodle puppies are available from as cheap as $500 to as expensive as $8770 (for an older puppy with some training). On average, most Goldendoodle puppies cost between $1000 and $2500.
Here are the price ranges from some of the most popular websites selling Goldendoodle puppies:
Keep in mind that you get what you pay for. Cheaper puppies may come from less respectable breeders who don't do any health testing and keep dogs in cages at all times.
More expensive puppies usually come with extensive health testing or behavior training.
Bonus Note: Lexie, our Mini Goldendoodle came from Kaos Farm Goldendoodles, located in North Carolina.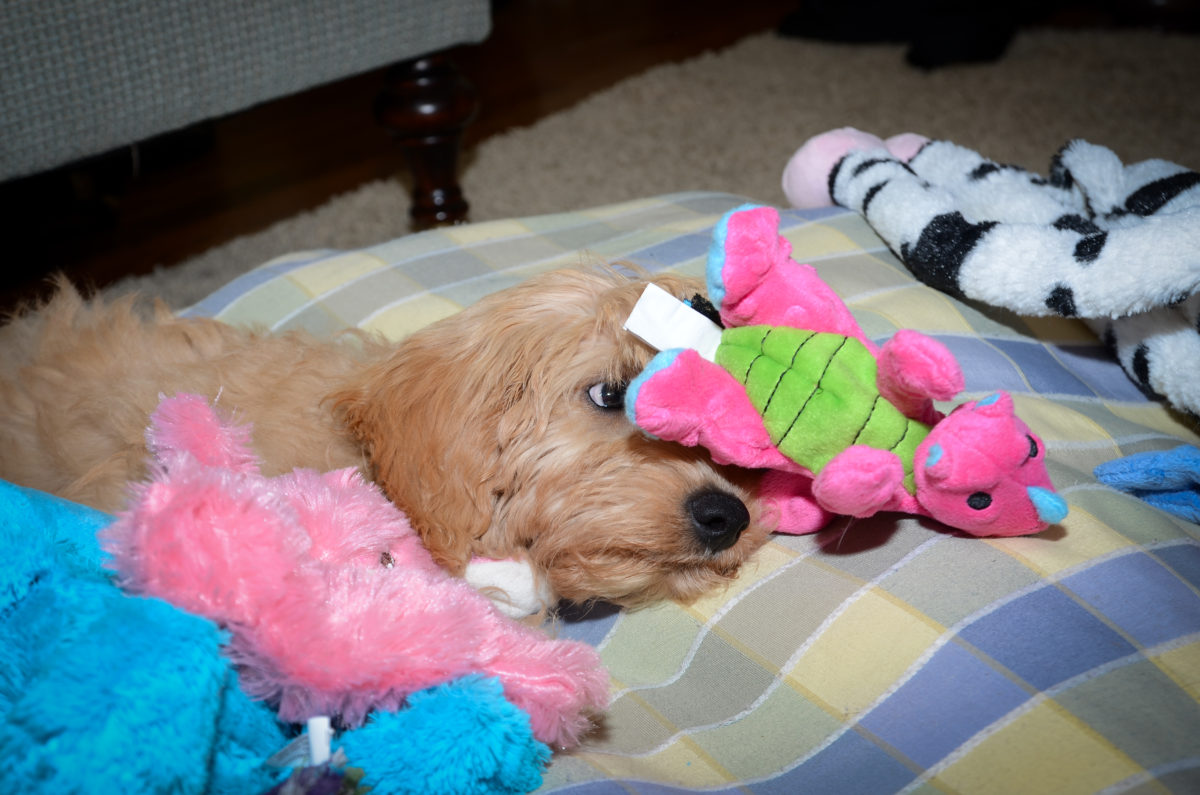 Why the Big Price Differences?
A wide variety of factors influence the cost of a Goldendoodle puppy. A few considerations include:
Breeder location. Everything costs more in big cities, and that goes the same for Goldendoodle puppies. Breeders in rural areas may have lower expenses, meaning they can charge lower prices for their puppies.
Goldendoodle size. The smaller the Goldendoodle puppy you're looking for, the more you should plan on paying. That's because it will take several generations of careful breeding to create the small dog you're looking for.
Breeder quality and standards. Breeders who do health testing on their breeding dogs and aim to produce healthy puppies will (and should) charge more than people who just throw random dogs together in the hopes of producing quick, cute puppies.
Training. The most expensive Goldendoodle puppies stay for some basic training before going to their new home. Instead of bringing home an 8-week-old puppy that isn't potty trained, you could bring home a 12- or 16-week-old puppy that is potty trained and also already knows commands like sit, stay, place, come, kennel, potty (on command), and leash.
Supply and demand. The higher the demand for Goldendoodle puppies, the more a breeder can charge. Many reputable breeders require deposits on puppies before they're even born. This is a sign of a breeder who focuses on quality over quantity for the puppies they produce.
Generation. F1 (first-generation) Goldendoodles are usually the cheapest. They have one Golden Retriever parent and one Poodle parent. There are a lot more variables with these first-generation Goldendoodles, and they're more likely to shed, so they're less popular as pets but are required to breed the next generation. Progressive generations (like F1b and F2) need more breeding and more work, so the puppies cost more.
Pedigree. While Goldendoodles can't be registered with the American Kennel Club (AKC), the parent Golden Retriever or Poodle may have been. This type of pedigree can increase the cost of puppies because the bloodlines are considered more valuable.
How to Find a Good Goldendoodle Breeder
On the internet, it can be hard to separate the reputable breeders from the puppy mills.
Anybody can use a cute background in the puppy pictures and claim their puppies are family-raised, even if their breeding dogs and puppies usually never leave their tiny kennels. Here are some tips for finding a good Goldendoodle breeder.
Reputable breeders:
Ask questions to make sure you're the right home for one of their Goldendoodle puppies.
Raise puppies indoors and keep puppies with their mothers as long as possible.
Let you meet the parent dogs and see the puppies' living area.
Test their breeding dogs for genetic conditions and discuss the results with you.
Include a certificate of health for the puppy from a licensed veterinarian.
Teach you about vaccination schedules, puppy care, Goldendoodle temperament, and grooming.
Watch out for these red flags:
Puppies seem afraid of people
Adults are kept in small cages or poor conditions
No health screenings are done
You can't see where the puppies live
Pressure for a quick sale
Very low price
No paperwork
Presence of foul odors
Despite a fancy website, many Goldendoodle puppies for sale online come from puppy mills, which house dogs in cruel conditions to produce puppies for profit.
These dogs are more prone to genetic problems due to careless breeding practices and other health problems due to poor living conditions. You may save money on the purchase price, but pay higher vet bills for an unhealthy puppy.
To avoid accidentally supporting a cruel puppy mill, you should avoid having a puppy shipped to you. Go to the breeder to pick up your puppy so you can check out the living conditions first.
While you may think you're "saving" a puppy from a puppy mill, you are actually supporting the business and sentencing that puppy's mother and other dogs to a lifetime of cruelty.
Adopting a Goldendoodle
Some people aren't prepared for the responsibility of having a Goldendoodle. Or, their life circumstances have changed, and they can no longer care for their dog.
Or they thought they were getting a hypoallergenic dog, but they are allergic to their Goldendoodle. Either way, you can sometimes find Goldendoodles in shelters or rescues.
Adopting a Goldendoodle is usually cheaper than buying a puppy, especially when you factor in that vaccinations and spaying or neutering are typically included in the adoption price.
However, young puppies are rarely up for adoption, so you may need to settle for an older puppy or young adult.
Finding a proper Goldendoodle rescue can be tricky. Sometimes, breeders use the word "adopt" for the puppies that they sell to throw off suspicion about their breeding practices.
Real rescue groups typically have 501(c)(3) status and operate as a nonprofit organization.
I've done some research, and these places appear to be legitimate rescues that (at least occasionally) have Goldendoodles available for adoption. When possible, I've also included the typical adoption fees:
It's important to note that rescues often have stringent rules about who they will and won't allow to adopt dogs from them.
You may be required to have a fenced yard, have no small children, or live within a certain distance from the rescue. Be sure to read each rescue's adoption rules carefully before applying to adopt a Goldendoodle.
Other websites that focus on adoption but don't specialize in Goldendoodles include:
These sites don't handle adoptions themselves. Instead, they show adoptable dogs that meet your criteria, then direct you to the shelter or rescue handling the adoption of the dog you like.
The Puppy Price Is Just the Beginning
Keep in mind that there are a lot of expenses connected with getting a puppy beyond just the price of the puppy itself. Here are some other cost factors involved in bringing home a new Goldendoodle puppy:
Vaccinations $75-$100
Vet bills $100-300
Spay or neuter $150-$700
collar, leash, bowls, bed $25-200
Food and treats $20-$100
And that doesn't include your ongoing monthly and yearly expenses:
Food and treats $250-$700 per year
Beds $50-$200 per year
Leashes and collars $25-$50 per year
Routine vet care $200-$300
Preventive medications and supplements $100-$500 per year
Obedience classes or training $25-$300 per year
Dog walking up to $430 per month
Pet sitting or boarding $100-$300 per year
Emergencies and unexpected expenses up to $5000 or more
Additionally, if you rent (rather than owning your home), you may need to pay a one-time pet fee or pet deposit as well as monthly pet rent.
On average, the yearly cost of owning a dog ranges from $1,500 to $10,000. Make sure your budget can handle that before you buy a Goldendoodle puppy.
Closing Thoughts
Between the cost of the puppy itself and all the things they need, getting a Goldendoodle puppy can be quite expensive.
However, Goldendoodles are an excellent breed for those who can afford them and give them the exercise, time, and attention they need.
Goldendoodle Cost: Puppy Prices & Daily Maintenance