7 Creative Haircuts & Styles for Goldendoodles [With Pictures]
As Goldendoodle owners, we know how much a good haircut means for our dogs. Too short and they look like a poodle. Too long and they can look unkept and they get easily matted fur which is very painful.
If you are looking to remove matted fur, I suggest you read this article.
However, if you are here looking for Goldendoodle haircuts and Goldendoodle hairstyles then you are in the right place.
When we got Lexie, we searched and searched for photos of haircut styles that we liked on other Goldendoodles.
The hairstyle you use for your Goldendoodle may be determined by the type of fur coat they have. Goldendoodles can have wavy, curly or straight coats. You can read more about Goldendoodle coats in this article.
Okay, enough talking about Goldendoodle haircuts, let's look at some photos so you can get some inpiration for what style you want to use for your Goldendoodle's next grooming appointment.
Bonus Tip:
If you really like one of these photos, print it out and share it with your Groomer! Once we did that we were really happy with how Lexie, our Mini Goldendoodle's haircut turned out.
Doodle Cuts
How do you want your Goldendoodle to be groomed?
One of the great things about Doodles in general is you can easily and quickly change their style with a little grooming.
Let's get to the Doodle haircut photos.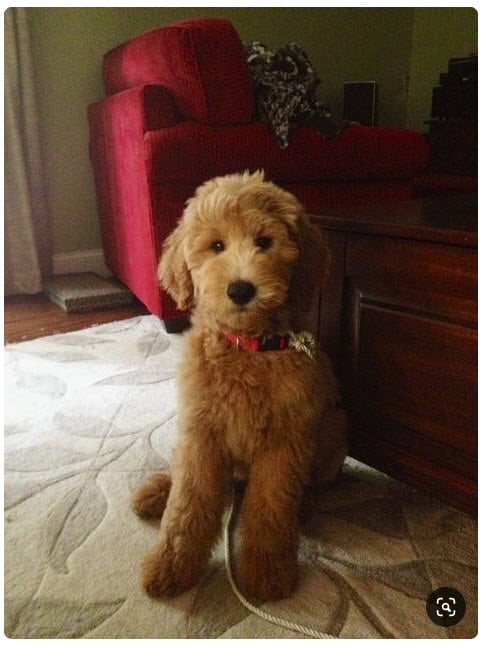 ---
How To Trim Your Doodle's Face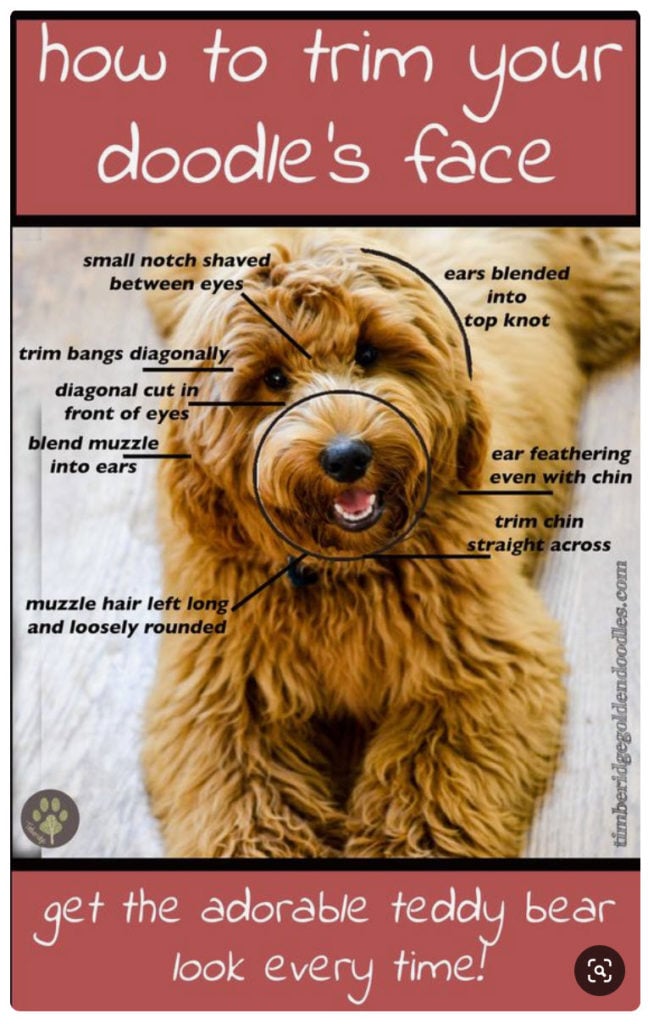 ---
Goldendoodle Grooming – 5 Best Tips On How To Groom A Goldendoodle
---
Using Clippers to DIY Groom Your Doodle
This site was pretty helpful with photos showing the correct direction to run your clippers when grooming your doodle. The site is for Labradoodles vs. Goldendoodles, but for grooming purposes, it is still helpful.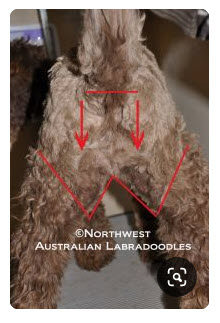 ---
OH MY! Creative Grooming
People can definitely get creative when doing their own DIY Doodle grooming!
Between you and me, I don't know what to make of this photo!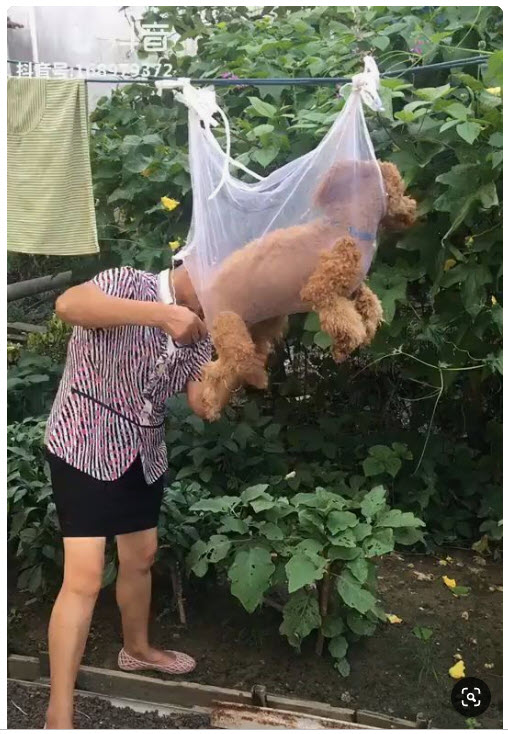 Goldendoodle Mohawk Haircut
Goldendoodle Lion Haircut
Okay, I have to admit, with my personality I would consider this one year for Halloween.
I don't like the idea of shaving Lexie so short after Halloween so I have never done it, but I have at least thought about doing this funny Goldendoodle Lion cut. I know my daughters would think it was cool for her to be a Lion for Halloween.
Plus, it would be on a 25 pound Mini Goldendoodle so it might look rediculous… but it is only for a day or two, right?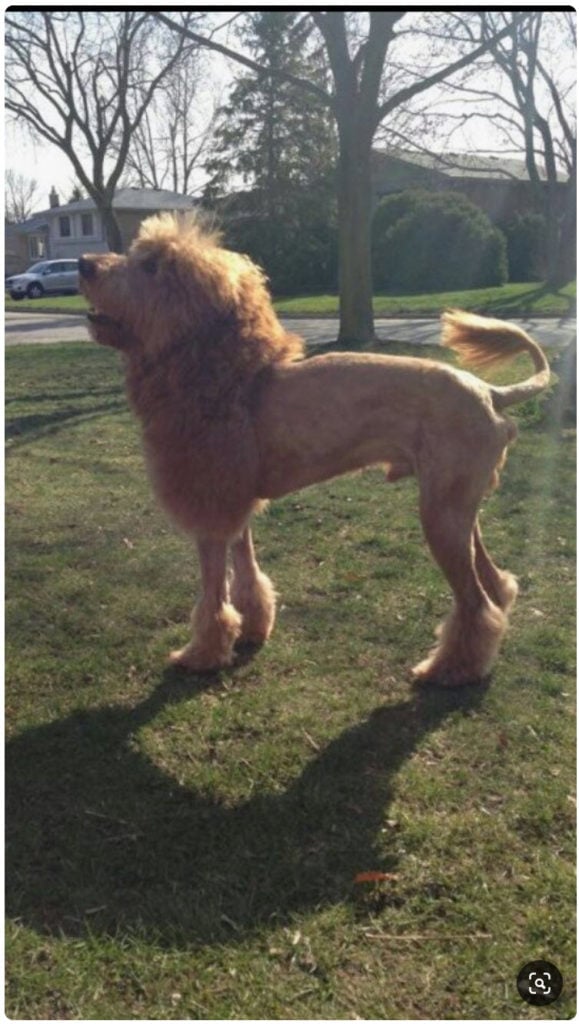 Beanie Boo Plus Toy Mini Goldendoodle
While we have never done the Doodle Lion Cut for Halloween, we did dress Lexie up as a Beanie Boo one Halloween.
The kids both dressed up as crayons and they walked Lexie around the neighborhood.
Here's a photo of Lexie dressed up like a Beanie Boo for Halloween.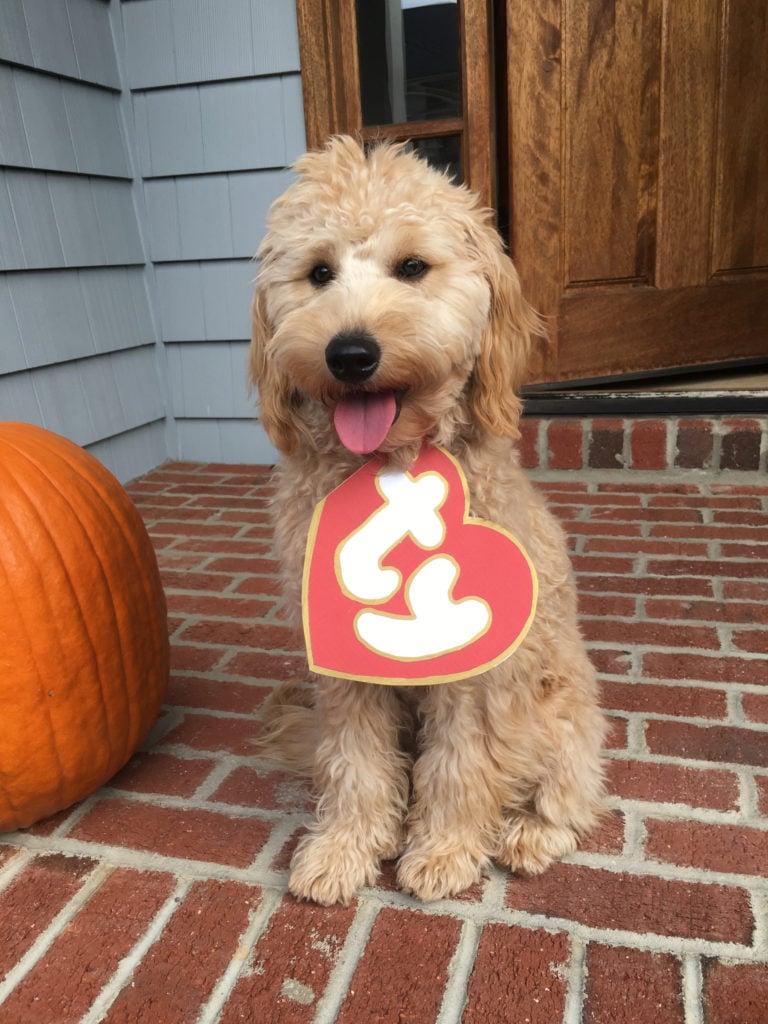 Feel free to use the idea if you like.
Bonus Material:
While I have you, I thought I'd give you 2 of my 3 must-own brushes!
I use these every week with Lexie. They are super affordable and I cannot imagine having a Goldendoodle and now owning these brushes:
Brush #1 – Use This brush For Daily Brushing Of Your Doodle
Brush #2 – Use This brush When You Find Matted Fur On Your Goldendoodle So They Do Not Cry
If you want to know more about using these dog brushes, this youtube video shows the brushes in action. I fast-forwarded to the 1:05 mark so you don't have to listen to my description. This link takes you right to the action.
Just look at Lexie calmly getting brushed out while cuddled up watching tv together with my daughter!
7 Creative Haircuts & Styles for Goldendoodles [With Pictures]