Is Purina Pro Plan Good for Goldendoodles?
Goldendoodles are active dogs and need the right food to keep them healthy and strong. It is important to know what to look for in dog food since there are so many on the market, and one dog food brand does not fit all dogs.
Is Purina Pro Plan Good for Goldendoodles?
Is Purina Pro Plan good for Goldendoodles? There are Purina Pro Plan options that are good for Goldendoodles. Purina Pro Plan has a complete line of dry and wet dog food for puppies, adult dogs, senior dogs and dogs with allergies and sensitive skin, so it is possible to find the right brand of Purina Pro Plan for your goldendoodle.
Goldendoodles need a diet high in protein and fat to help them grow strong and keep them energetic. Goldendoodles also have a sensitive stomach, so it is important to make sure you pick the best food with the right ingredients. Purina Pro Plan also adheres to FDA and AAFCO guidelines, to make sure the food is of good quality.
Types of Purina Pro Plan Dog Food
Purina Pro Plan is Purina's top of the line dog food. There are four categories to choose from, and more than 80 dog food formulas. Each type of Pro Plan food is tailored to dogs based on size, breed, and age, so you should be able to find the best formula for your Goldendoodle.
There are Pro Plan formulas for puppies, adult dogs, and senior dogs. There are also grain-free options and options for Goldendoodles with sensitive skin and stomachs.
There are several types of Purina Pro Plan choices within the four Purina Pro Plan categories (Savor, Focus, Bright Minds, and Sport). Here are some Purina Pro Plan food options that are best geared toward Goldendoodles:
| | |
| --- | --- |
| Pros | Cons |
| The first ingredient is real chicken. The protein content is 28%. | It contains gluten, which may upset your Goldendoodle's stomach. |
| It contains vitamins and omega-6 for a healthy coat and skin. | This blend contains egg, which may be an issue if your Goldendoodle has an egg allergy. |
| Promotes healthy joints with glucosamine and calcium. | |
| | |
| --- | --- |
| Pros | Cons |
| The first ingredient is real beef. The protein content is 32%. | It contains a lot of plant protein. |
| Grain-free for digestive health. | This blend contains egg, which may be an issue if your Goldendoodle has an egg allergy. |
| Promotes healthy joints with glucosamine and calcium. | |
| | |
| --- | --- |
| Pros | Cons |
| Comes in two flavors (salmon and lamb). | The food has a strong smell. |
| No soy, wheat, corn, artificial flavoring, or by-products that can irritate your Goldendoodle's stomach. | It contains gluten, which may upset your Goldendoodle's stomach. |
| Natural prebiotic fiber will help with digestive health. | |
How to Determine Your Goldendoodle's Ideal Diet
Goldendoodles, being a crossbred dog, are all unique. The best diet for a Goldendoodle will depend on the dog's age, size, energy level, and personality.
As an active breed, Goldendoodles require dog food that is high in protein and fat. The right diet will help your Goldendoodle have the energy he or she needs to stay energetic and healthy.
Health Issues in Your Goldendoodle
It is common for crossbred dogs to have some health problems. Some of the most common health problems of Goldendoodles are hip problems, eye conditions (including cataracts and glaucoma), ear infections and skin conditions.
Health conditions are influenced by lineage. If you can learn about your Goldendoodle's mom and dad, it will help you identify potential health concerns your Goldendoodle may have.
The food your Goldendoodle eats can help alleviate health conditions, so it is important to pay attention to your pet's health issues and pick a food tailored to its needs.
What You Should Know About Ingredients in Your Goldendoodle's Food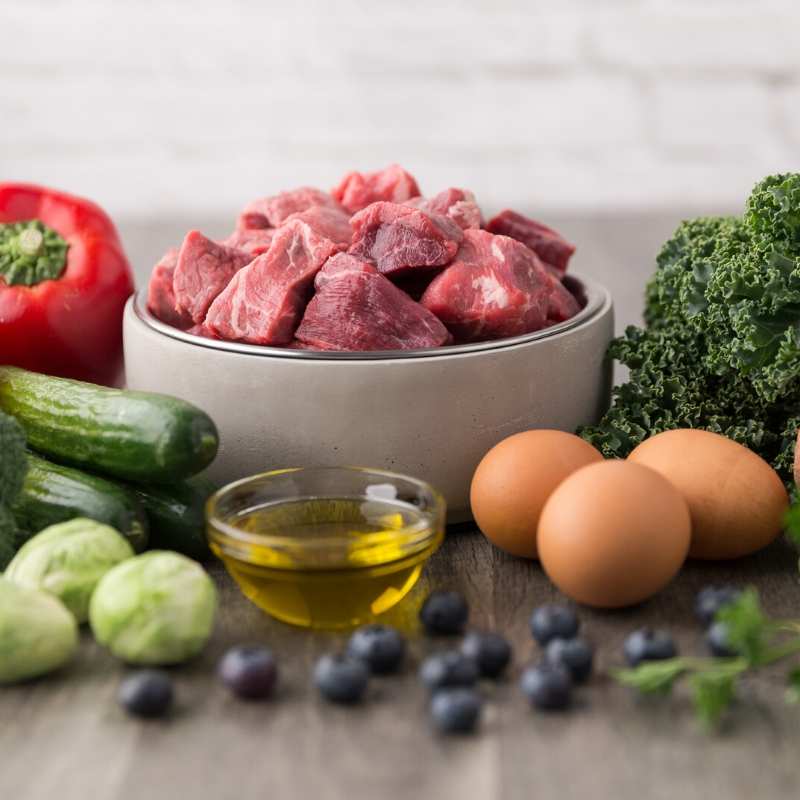 Reading the ingredients list on the dog food you buy is critical. Many dog food companies put fillers in their food that are not necessary and sometimes not good for your Goldendoodle.
Protein, in the form of meat or plant, helps your dog stay strong and have the energy to get the recommended exercise needed. Protein should be the first ingredient(s) on the ingredient list, and ideally, your Goldendoodle's food should contain 2 to 3 different types of protein, and there should be more meat protein than plant protein.
Fat is another important source of energy in your Goldendoodle's food. Your Goldendoodle is not trying to fit into a special pair of jeans, so while you may be on a low-fat diet, your Goldendoodle should not. Fats from canola oil, animal fat, and omega-3 fatty acids are good types of fat for Goldendoodles.
Carbohydrates should not be the main ingredient in your Goldendoodle's food. Too many carbohydrates could lead to issues with blood sugar levels. Also, grains can cause stomach irritation for your Goldendoodle, so you may want to talk to your veterinarian about a grain-free diet for your Goldendoodle. Good alternatives to grain are barley and oats
Vegetables and Fruit provide Goldendoodles with the vitamins and minerals they need for digestive and immune system health.
Fiber is important for digestive health, including keeping dogs regular and obstruction-free, so it should be included in your Goldendoodles diet.
Calcium is important for puppies for bone development. It is also important for older Goldendoodles to avoid orthopedic problems. Your Goldendoodles food should contain the appropriate levels of calcium to promote bone health.
Allergies Your Goldendoodle May Have
Goldendoodles are a healthy breed, but they do have the potential to have allergies or foods that can cause digestive discomfort. Common allergies to look out for are allergies to corn, wheat, dairy, soy, and artificial colors and preservatives.
If your dog is acting sluggish, not eating its food, or is throwing up, you should ask your veterinarian about whether it could be the food that is causing the problem.
FDA and AAFCO Guidelines for Dog Food
The Food and Drug Administration (FDA) sets forth requirements that food for animals is safe to eat, produced in sanitary conditions, and truthfully labeled. There are also various state regulations for dog food.
The Association of American Feed Control Officials (AAFCO) is a voluntary organization. Food producers can choose to adhere to the more stringent standards for pet food that this organization publishes. State laws and regulations often reference to the AAFCO Official Publication as part of the nutritional adequacy labeling for pet foods.
Purina Pro Plan food meets FDA standards as well as AAFCO guidelines, so you can be confident in choosing Pro Plan to provide the best ingredients for your Goldendoodle.
Dry Food vs. Wet Food for Your Goldendoodle
Dry food is the best option for most Goldendoodles. Dry dog food is good for dental health because it keeps tartar and bacteria off teeth and gums.
Puppies and older dogs often fair better with wet food. Puppies may prefer wet food while their teeth are coming in. Older dogs with dental issues may have an easier time eating wet dog food.
Goldendoodles are not the only dog breed with specific food needs. The other day I was texting with Zach Reed over at Great Dane Care and he mentioned he had put together an extensive food guide. I thought he covered a lot of popular details and I thought you may enjoy reading it too.
Transitioning Your Goldendoodle to a New Diet
If you find that the food your Goldendoodle is eating is not a good fit, you should consult your veterinarian to figure out exactly why your Goldendoodle is not thriving on the food you have bought. It is important to figure out if it is a specific ingredient or allergy that is problematic.
Making a diet change may be necessary. If you are changing to a new brand of food, be sure to do it gradually. At the beginning of a new diet, you should monitor your Goldendoodle to see how he or she reacts to the new food.
Is Purina Pro Plan Good for Goldendoodles?