A Goldendoodle notes to be a blend of the lovable golden retriever and the graceful poodle. It is a healthy mix of a dog that needs to have its exercise and fun while also enjoying quiet nap time lying beside his pet parent. There are some breeds in the canine community that are better suited to a relaxed lifestyle than their counterparts. But this lovely dog is not necessarily the best example of that.
When A Goldendoodle Puppy Is Calm, Do You Need To Worry?
When a Goldendoodle puppy is calm, do you need to worry? If the pup is younger than eight months, it would be a good idea to have a vet take a look at him. Most dog experts recommend that if a young pup remains sluggish and lazy, there may be an underlying issue as most puppies are very energetic and hyper up until between 8 and 15 months when they begin to even out.
That doesn't mean that the puppy has a medical condition. There are some Goldendoodles born naturally calm who gradually gear up to their full potential for that little bit of crazy for which they have become infamous. A quick checkup will just ensure wellness.
My Goldendoodle Puppy Is So Calm
The rule of thumb with a new puppy of any breed is as follows:

Three days: Adjusting to who is living with him.
Three weeks: Adjusting to where it is living.
Three months: He becomes acclimated to where home is and develops his behavior.
With the goldendoodle, some people pick what appears to be the calmest one of the litter only to get him home, and he is like the Energizer bunny.
And then some bring their pick home, and all he does is sleep, causing them to worry about what's wrong with him because of a puppy's reputation for boundless energy.
There is really never any cut and dry when it comes to any pet. They're all unique and will behave as such. No cookie-cutters. But if there are any signs or if you feel that there is a medical issue, you must see the vet right away.
Please, don't read what Goldendoodles are 'supposed' to do and assume that yours is broken. He's just his own little guy. Do your research, sure. But see a vet if you have any concerns.
Most puppies will sleep 18 to 20 hours each day. So, don't take a sleepy puppy as something to worry about. However, if your puppy doesn't seem to have the energy to play or romp around during waking hours, give your vet a call and see if it's recommended to bring him in.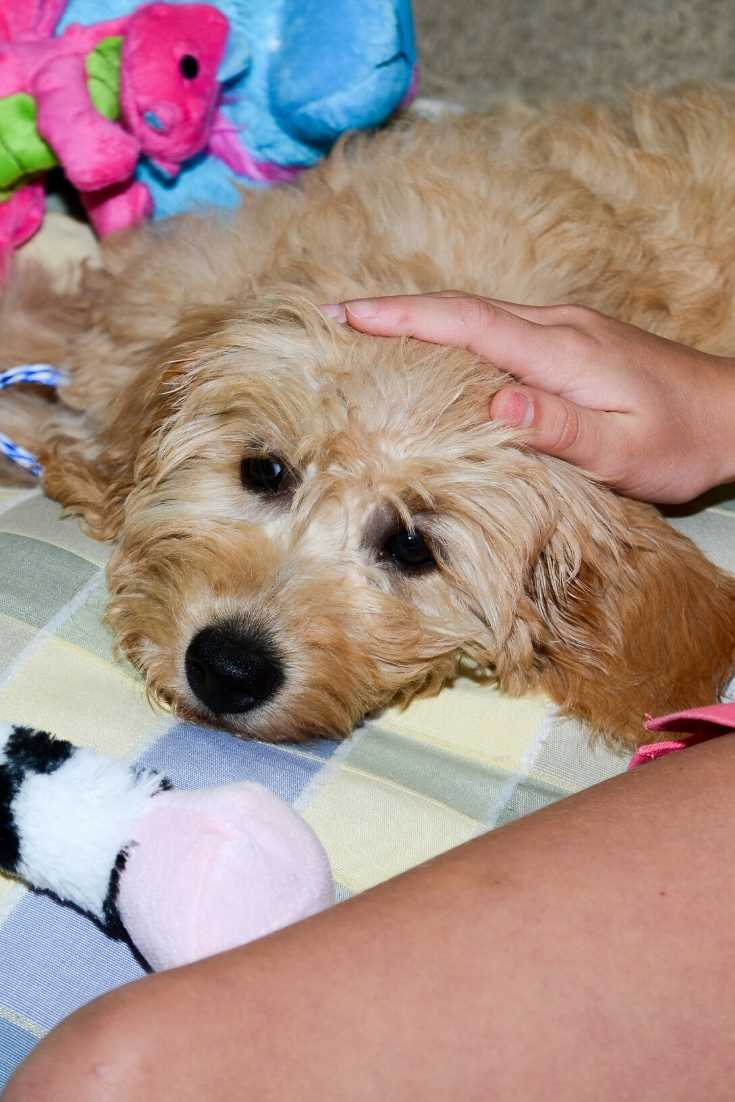 When Will The Hyperactive Goldendoodles Catch Their Breath?
The lesson received on this breed regarding temperaments seems to be that you can either get a pup dominant in poodle or one more related to the golden retriever, which is said to affect the demeanor.
The claim is that poodles are more high maintenance and full of energy as compared to that of the golden, which is much more laid back. Because this is a mixed breed, it's not likely you'll know with which you're going to end up.
For the pups that show an excessive amount of energy when they're born, the suggestion is that some of that will begin to slow down between the 8 to 15-month period, and then for some, calming takes place gradually as age progresses.
Some dogs remain incredibly energetic well into older years, with pet parents boasting of having energizers in the seven-year range.
One pet parent who has a dominant Goldendoodle may find their pet is exceptionally mellow and only wants to follow the family throughout the house.
The recommendation for obedience training is a requirement for all puppies, not only this breed. Training, as well as socialization, are a large part of helping your goldendoodle develop good habits.
Not training your pet will not only cause problems for the family but will cause difficulties for the animal as well. Familiarize yourself with the breeder and how they socialized their puppies, whether they were exposed to children, other animals, cats, etc.
Once you have a little control, the puppy will listen and not be so hyper though he will still require his exercise.
Goldendoodle Hyperactivity
If you are the parent of a hyperactive goldendoodle who has endless energy he uses to zoom through the house limitlessly, he's probably not receiving enough time for exercise.
Every dog needs to take a walk a few times each day or engage in some play in an effort to wear themselves out. This breed has endless energy for the most part and is incredibly high-strung, so engaging them is essential.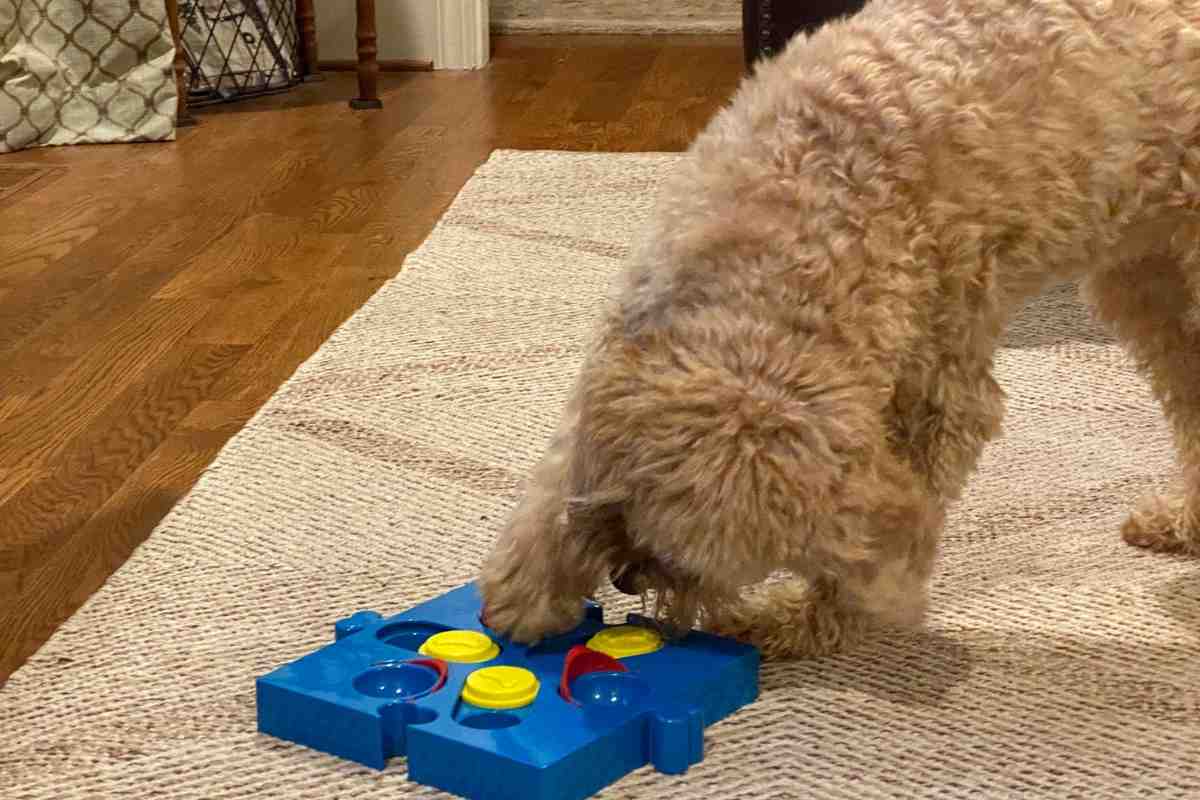 For the little guy who is overactive, you'll want to try to allow for them to walk at least an hour and try not to miss any of their sessions, which could result in a peak of energy.
An ideal scenario is for them to have an area where they can just run free of a leash either in your yard or at a dog park. Other things that to involve your pup in include:
Fetch with their favorite toys indoors while you continue your chores.
Socialize with friends who also have pets and let them play.
If you enjoy going for a walk or jog, let puppy tag along.
Outdoor fetch for an extended time.
If there are neighborhood children, let the puppy have friends come over to play.
We, as humans, can't stand being cooped up without being able to release pent-up energy. As a doggy momma or daddy, we need to realize this carries over to our fur babies, especially the breeds that are meant to be hyper and burn that fuel.
Reacting To The Excitability
First, it must be said. If you are not in a position where you have the patience or the tolerance for a pet, please don't get one. I
f you can't handle having to walk them for any length of time, play with them, give them attention, or even let them inside your home, let someone who has that kind of love enjoy them.
These animals are innocent with nothing but unconditional love for their pet parents, and they deserve only the best of homes in return.
In saying that, an issue that some people have is that they don't know how to respond to a dog that is hyperactive either positively or constructively.
It is suitable for the puppy if you don't give him praise when he has misbehaved. Never engage in corporal punishment, ever. Instead, make it a habit to try to decrease the energy level by not paying attention to him when he is overly active.
There is a popular and effective suggestion that your dog may learn to calm down by example. If you practice calming with him by playing for a few minutes and then settling down for a few seconds, he will see that when playtime is over and now it's settle-down time.
Being A Doodle Parent
As a whole, most doodles are expected to offer a load of energy if they are less than a year in age. This is their reputation anyway. You should anticipate many episodes of vigorous play periods as well as times when they nap.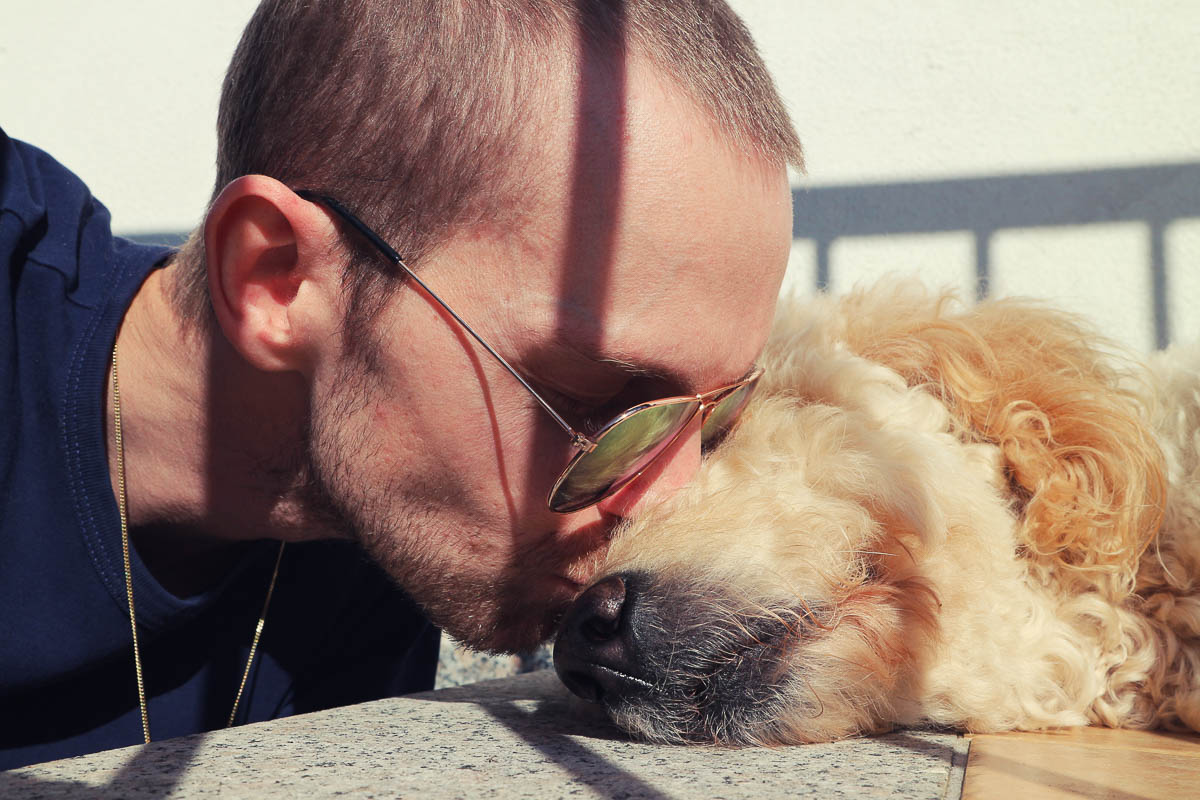 If your goldendoodle is excessively sleepy or doesn't seem to have the energy for basic activity, by all means, get your fur baby to the vet. While puppies do sleep for up to 18 hours a day, when they are awake, you should expect them to be fairly active.
Once you know your pup is okay, go on and have fun! Having a fur baby is not so different from having a small child. It's an opportunity for the two of you to meet other pets in the neighborhood and socialize with their parents.
This breed is amiable, meaning socialization will be easy and fun. The behavior patterns that you develop with them now will have long-lasting effects throughout their lifespan. Make them pleasant.